It's Friday! It's Friday!
Today is my Friday off and it is probably the only day I won't be working this weekend...and that is only because my mom has some stuff to do this morning and can't keep the kids. Otherwise, I'm sure I would be at work. It's pretty nuts there lately, and I have been working way more than I used to. We're still closing the month of May and I have financials to get out, and on top of that, our budget for next year is due at the end of this month. Fun times.
The last couple of weeks have been kind of a blur. Rylie and Bryce stay with my mom during the day, and Bryce has been spending most nights over there too. I don't mind as long as I get to see him for dinner, but when I go a couple of days without seeing him at all, I want my little man to come home.
While Bryce was at my mom's house, Rylie and the dogs had taken up residence in his bed. I figured that when he decided to come back home that they would have a rude awakening. On Wednesday night Bryce stayed home and Rylie went to my mom's, and when he hopped in his bed, guess who else hopped in there with him?
Yep! Apparently
Lucy
and
Ernie
think that is their bed now.
The transition from one dog to two has been wonderful! Ernie is such a sweet, fun dog, and he has done so well since day 1. Lucy is doing much better, too, now that she has a friend.
Well, except for when she backed out of her collar Tuesday morning and Brian had to chase her down through the wet grass.
Since I am off today and the kids are home, I decided to get some use out of our annual passes and take them to Universal Studios.
Yes, by myself. Please pray for me.
My mom and the kids missed Tuesday morning crafts at Chick-fil-A, and Rylie asked if we could go for crafts today, so we'll be having breakfast and craft time at Chick-fil-A first. Then we're off for a fun-filled day of rides!
It looks like I'll be working most of the weekend while the rest of my family is playing in the pool and having fun. Boo! Sometimes it sucks being an adult with responsibilities.
What are you up to this weekend? I hope it's great!
---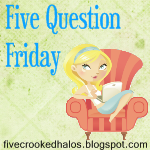 1. What do you appreciate most about your children's Dad?
That he is a hands on dad. Since the day Rylie was born he has changed diapers, given baths, helped them go potty, cooked meals, read stories, taken them to birthday parties, etc. He does just as much (if not more) with the kids as I do.
I can't stand to hear women talk about how their husband is "babysitting" the kids, how they have to leave all of these instructions for the two hours they will be away, and how nervous they are. What?!?!?! I would never worry about leaving my kids with their father. I've been gone for a week at a time and everything is just fine.
2. Do you always wear your seat belt?
Absolutely!
3. Do you dream and do you remember them?
Yes and yes. Well, sometimes I remember them. I dream so vividly that when I wake up, I often think my dream really happened.
4. What is one thing you swore you'd never let your kids do before having them, that you have now changed your ways about?
I don't remember ever saying that I would never let my kids do something, but when I waited tables, I did say that I would never take my kids to restaurants until they were older. I HATED waiting on tables with kids! The parents always wanted the kids' food rushed out, and they always asked for crackers, which made a huge mess that I would have to clean up.
Obviously we take our kids to restaurants all the time. And I have asked for crackers. However, I do tip well, especially if my kids make a huge mess.
5. If you could be granted one wish, what would it be?
I could be all big hearted and say world peace, or that I want my kids to live long, healthy lives.
Which I do, obviously.
But if I rubbed a lamp and the genie inside only had one wish left, I would wish that I would win the lottery. A big one, too, like the $600M Powerball! I would love to have enough money so Brian and I would never have to work again. People say that money doesn't buy happiness, but not having to work and being able to spend more time with my kids definitely wouldn't make me sad. And I'm sure I'd be pretty damn happy sitting on some tropical island with a fruity drink in my hand, too.