Happy Friday, my friends! It's been a decent week here, and definitely much better than
last week
. Bryce is back to 100%, and thank goodness, because he lost so much weight from being sick that his pants were falling down all week!
It was super cold here in Central Florida this week. I'm not just talking about a cool front dropping the temps down into the 60s, either. It was in the 30s a couple of mornings! I know that isn't horrible to you northerners who are dealing with snow right now, but for us native Floridians, that is COLD. My truck was covered in ice a couple of mornings, and we even had to break out the thick jackets and mittens!
Or are they gloves? LOL I don't even know the difference!
We're planning to head to the Strawberry Festival on Saturday after dance, and I'm hoping I don't blow my diet too badly. We're leaving on a cruise next weekend, and I still need to drop a couple of pounds so I can gain it all back in the 6 days we're at sea. I'm going dress shopping on Sunday for a new formal dress so that the pictures from this cruise won't be the same as the last two. So as usual, another fun, yet busy weekend is ahead.
What are you doing this weekend? I hope you have a great one!
---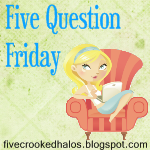 1. Does your family coordinate clothing for church on holidays like Easter?
We don't go to church. The only time we purposely coordinate clothing is for family photos.
2. How do you get out of a funk?
It really depends on what is causing the funk, but normally, I talk it out with one of my besties. I have a few good friends who can always seem to get me smiling again.
3. Online friends - real friendships or not?
Definitely real! Well, some of them, at least. I have made so many great friends online that have carried over into "real life". I actually met the majority of my friends here in Orlando on The Knot and The Nest, back when I was planning my wedding, and then when I was pregnant. These ladies are my REAL friends, and I am so thankful to have met so many wonderful women through the internet.
I actually met one of my closest friends through blogging, and we have talked just about every day for the past three years. (
Wow, has it been that long already?
) Xenia, from
Thanks, Mail Carrier
, has become such a great friend, and there are some days when I wouldn't know what to do without her. We finally met in person last summer and we had such an awesome time together!
4. What is the one food you must eat in a restaurant (not make yourself)?
Ummmm...how about everything? LOL If I had to pick ONE thing, though, I would go with sushi. No way would I try to make those rolls myself.
5. What would happen in your home if you ran out of ketchup?
Nothing. Brian hates it, and the kids would rather dip their food in barbecue sauce or Chick-fil-A sauce. We rarely use ketchup here.