Happy Friday! I had a pretty awesome week! Why? Because this was the view out of my window for the past 6 days...
Yes, I'm talking about the two goofballs there, but also the beautiful ocean behind them!
We just returned from our
5 day Western Caribbean Cruise on Royal Caribbean's Jewel of the Seas
, and we had a great time! Of course there will be daily recaps and a gazillion pictures to come in the next few days (
or weeks...depending on how caught up I get this weekend
), but I have to look through them all first. If you're interested in cruising, you won't want to miss my posts.
I'm still trying to find out if Rylie has dance this Saturday since next week is spring break here, and then Saturday afternoon we're headed down to Parrish for the
Day Out With Thomas
event. Sunday will be full of laundry, and hopefully I'll get to relax a little before I go back to work on Monday. Blech.
Does anyone have anything fun going on this weekend? I hope it's a great one!
---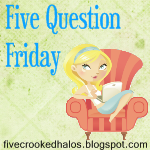 1. What advice would you give a newly married couple?
Communicate. Always. Even the little things. The little things add up and build on one another, and one day they will end up being something big.
2. Who does more laundry around your house?
More like "who does ALL the laundry around the house?" That would be me. Honestly, though, that is by choice. I'm very OCD about how the laundry is done, so rather than giving Brian 50 instructions for each load, I just do it all myself. He does enough around here anyway. The least I can do is make sure his clothes are clean.
3. What items, if any, do you prefer to buy organic or make yourself?
Organic schmanic. I could care less, really. Brian does the grocery shopping and has tried to buy some organic items lately, and personally, I think the pesticide-laden items taste better. Take this grass fed beef garbage for example...I'll just say that I miss my greasy burgers and don't care much for that dry, tasteless meat.
And me make something myself that I can buy? Ha! Who has time for that nonsense? I see at least one tutorial a day about how to "make your own" this or that, and I always wonder why someone would go through the hassle of buying several ingredients and spending hours making something that you can go buy at the store for less than $5.
4. What book/TV series would you recommend for a friend on bedrest?
That's easy. Scandal. I looooove that show! But since it is only halfway through the second season and the first season only had a few episodes, you're going to need something else. Dexter is awesome if you like serial killers (
he has a "code", though, and doesn't just kill anyone
), or an oldie but goodie - 24.
5. So, they say it's Spring now...what does your "spring" look like at this very moment?
Strangely, our spring is pretty dang cold right now. I couldn't believe how chilly it was yesterday morning when we got off the ship. Weather.com says that it is currently 58 degrees here right now, which is too cold for me. The temps will be in the 80s over the weekend, but then it looks like another cold front will be blowing through. We didn't really have a "winter" again this year, so this is a little strange that it is so cold right now. Whatever. I'm ready for summer!