Happy Friday! It's been a pretty exciting week here! The company I work for got a HUGE contract last week, and I found out last Friday that I would be getting a promotion because of it. I will essentially be responsible for all of the financial aspects of the contract. For now, this is in addition to the two jobs I already do, but if the workload gets to be too much, we will be hiring someone to help me out. I'm excited and a little nervous all at the same time. This program financial responsibility is pretty new for me, and we'll be doing it all on a new accounting system too. For the next couple of months I will be buried at work as we get this going, so things may be a little quieter than normal here.
My
wild Saturday night
last weekend was because of my company's big win. They had a celebration party, and it turned into a very late night for a few of us. We had a great time, but since I don't party like a rock star all that often, it took me a few days to get over that. Combine that three day hangover with an increased workload, and this week ended up being pretty exhausting.
The week is ending on a good note because I am feeling like such a proud mommy right now! We had our second conference with Rylie's teacher yesterday, and she is doing extremely well! There will be more on that next week, but for now, I have to finish up this post and get some rest before our fun weekend that starts tomorrow. We're headed to Tampa for the weekend to check out another
Residence Inn
and spend a day at Busch Gardens. The kids are so beyond excited to stay in a hotel again!
I hope you all have a wonderful weekend!
---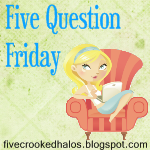 1. What holiday do you wish did not exist?
Hmmm. I can't think of any holidays I would want banned from existence. I love them all!
...especially when I get a day off of work!
2. What is your favorite romance/love movie?
One Fine Day. It's an oldie, but a goodie. Plus, anything starring George Clooney is a good movie, if you ask me.
3. Do you make a big production out of celebrating Valentine's Day?
Not really. We make up goody bags for the kids to hand out at school, and that's about it. We'll probably get Rylie and Bryce a little something too.
Back in the day, I always seemed to be single on Valentine's Day, so I guess I kind of grew to resent the holiday. Don't get me wrong, I'm glad it exists (see #1), but I guess all those years of hating it keeps me from really getting into it.
4. What is something weird you did as a child? (or even now!)
I'm OCD about pretty much everything. Enough said.
I don't know that I ever did anything weird, but how about something weird that I don't do? I can't blow my nose. For real. I just can't do it. People always find that odd.
5. What makes you love your husband, really LOVE him, you know since Valentines is coming up?
I love that my husband is a hands on dad, and he has been since the day Rylie was born. I hear so many moms making a big deal about leaving their kids with their husbands for a couple of hours so they can run an errand, and I couldn't even imagine thinking of Brian as a "babysitter". He can take care of his children just as well as I can. He can feed them, bathe them, dress them (although sometimes the outfits he picks out are questionable), and take them to birthday parties and the doctor. I have left the three of them at home together for days, and I didn't worry one bit.