Happy Friday all! I gotta say, I am exhausted. I know I say that a lot, but wow, it has hit me this week for real. We have been gone the last two weekends, so we've gotten behind on pretty much everything...especially laundry. Since the kids have a gazillion outfits and I only have like 5, I have made my laundry a priority while theirs just kept piling up. Thursday morning Rylie came downstairs from getting dressed and informed me that she had taken the last pair of clean undies out of her drawer. So guess what I started last night?
Yep, those are my mountains of Rylie and Bryce laundry. It's just such a daunting task - sorting, pre-treating stains, pulling Rylie's almost-too-small shirts out of the dryer after a few minutes so they don't shrink, folding and putting everything away - that I just put it off for as long as I can. But hey, I don't want my kid having to go to school commando! Although I may have had a fleeting thought that she had clean bathing suits. ;-)
I went to the doctor this week for my annual physical and left with 4 pages of blood work orders and referrals for a chest x-ray and a CT scan of my neck. I've had horrible reflux lately, and sometimes it hurts my dang lungs when I take a deep breath, so that's the reason for the chest x-ray. The CT is really for my thyroid. I have had nodules forever now, and it is like 4 times the size it should be, but my levels are always OK, so my doc just keeps an eye on things. Well this time she felt the huge lump that I have been feeling when I swallow, so we bypassed the annual ultrasound and went for the CT this time. I'm supposed to go today, but as of right now, the hospital hasn't gotten my insurance authorization back, so I may have to push it until next week. Gotta love insurance!
So that's my week in a nutshell. I haven't had the energy to get online much this week, so I have a lot of catching up to do. Hopefully we'll all get some rest this weekend and get some stuff done. We have a birthday party to go to Saturday for my good friend's daughter, and the kids get to bowl. They are going to have so much fun! Other than that and dance, we have nothing going on. Yay!
What are you all up to this weekend? I hope you have a great one!
---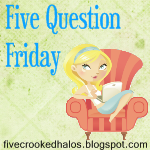 1. What is a hobby you would love to learn and why?
Photography. I love taking pictures of my kids, but I never get them to look as nice as the professional pics we get. I would never want to do it professionally (I have too many jobs as it is!), but it would be nice to learn more about my camera and how to use it.
2. What do you wish you could have delivered to your house but does not deliver?
Gas! Oh how I hate pumping gas! I usually beg Brian to get it for me, or ask him to run an errand in my truck when I know it is super low on gas. I always say that I would pay for someone to come to my house in the middle of the night and fill up my tank.
3. What's your favorite snow day activity? Inside and out?
What's a snow day? LOL
4. Would you meet a stranger from an Internet dating site?
I think I would. In a very public place, though. I have a couple of friends who have met their soul mates through dating sites. If you use one of the reputable sites that actually screen their members (not the crappy free ones), I think you can definitely find someone who you are compatible with.
5. If you had to spend 35 hours in a car with 4 other people, who would you choose?
Brian - because we need a driver who won't fall asleep.
Jenn - because we need entertainment. (Obviously I would take her anywhere!)
Xenia - because she's mad at me for not taking her to the island, so I better at least take her along in the car. She might cut the brakes if I don't.
My brother - because when he's not mad at me, he's pretty much the funniest person I know.