Happy Friday everyone! I hope everyone has had a wonderful week. We're doing pretty good here...finally! Bryce finally kicked those sickies to the curb after 6 days with a high fever, and everyone is back to normal.
I
posted last week
that Bryce had croup, and then strep, but when he still had a fever two days after the penicillin shot he got for the strep, I knew something else was wrong. His fever was up and down through the weekend, and we pretty much figured he had the flu on top of the strep. The fever went away on Sunday (or at least we thought), so we tried to enjoy the day and even went on a bike ride just to get Bryce out of the house for a bit.
His fever came back just a little bit Sunday night, so he spent Monday at Mama's house. By that evening it was finally gone for good. He stayed with my mom again on Tuesday and Wednesday to give his body some time to really heal, and then he went back to school on Thursday...with a smile. So hopefully that is it for the sickies around here!
::knocks on wood::
We don't have any real plans this weekend except for dance, but I've got Gymbucks burning a hole in my pocket, so I'm sure Rylie and I will be at the mall at some point. The weather is supposed to be great here in Central Florida this weekend, so we'll be taking advantage of that for sure.
Have a great weekend everyone!
---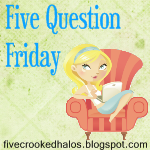 1. Do you embrace or dread snow/cold weather days?
Since we don't get many really COLD days here in Central Florida, I usually embrace them...especially since I have gotten into boots this winter. I love those chilly days when I can wear my skinny jeans and boots! It's nice to be without humidity for a few days too.
2. Which game show or reality show could you totally win?
I could totally win Wheel of Fortune! Before Rylie and Bryce came along, we watched that game show every night, and I always guessed the puzzle before the contestants did. In all reality, though, I would probably freeze up if I were actually on the show, and make myself look like a total fool.
3. What is your preferred climate?
Tropical. Where I can sit in the warm sun with a fruity drink in my hand.
4. What do you buy every time you walk into the grocery store, no matter what?
I don't go to the grocery store. I may run into Publix to grab a thing or two here and there, but I haven't done the grocery shopping in years. I'm not sure how that daunting task got handed over to my husband, but he does the grocery shopping now, and thank goodness. I can't be in a grocery store for more than a few minutes without feeling like I am going to pass out. I guess it is because of the fluorescent lights and the aisles.
5. If you see a spider/bug in the house, are you brave enough to kill it, or do you call for your hubby?
It depends. If it is small, I'll take care of it. But if it is the size of my foot and trying to get me, I always yell for Brian.