Happy Friday everyone! It's been a rough week around here. The sickies have invaded us, and so far, two out of the four of us have been dealing with the wrath.
Rylie's birthday party was last weekend (
post soon to come...hopefully!
) and with all of the crud going around lately, I had everyone
drinking grape juice
the few days prior to prevent anyone from getting a stomach bug. For once, everyone was well for her party, and we had a great time!
What the grape juice didn't prevent, though, was the croup and strep that Bryce ended up with, and the horrible cold I am currently battling. My poor little guy was so sick this week. You know he isn't feeling well when he actually asks to go to bed!
After all of the birthday festivities over the weekend, Bryce woke up Monday morning barking like a seal. I took him to the doctor and she gave him a prescription for a steroid to help with the croup, and then he spent the day at Mama's house. By the end of the day he wasn't coughing any longer (even without the meds). We went out for Rylie's birthday and all seemed well. We decided to keep Bryce out of school again on Tuesday so he could get some rest, so he had another fun day with Mama, even though he started running a high fever.
My mom had to go out of town Wednesday, so Brian stayed home with Bryce and took him to the doctor. He tested positive for strep and got a shot of penicillin. By the end of my work day on Wednesday, I felt like I had been hit by a bus. I was hoping it was just the exhaustion from being up with Bryce most of the night Tuesday night, but that doesn't appear to be the case.
I stayed home yesterday with Bryce, and he seemed to be doing better. Me? Not so much. I still feel pretty run down and tired. Unfortunately, I had to be at work today, so the boys are home. I'm hoping to get my stuff done and get home as early as possible.
Anyone else hate this time of year? Since my kids have been in daycare for so long and have been hit with just about every bug imaginable, I thought we would avoid any major illnesses this year. Guess not. I'm keeping my fingers crossed that Rylie and Brian stay well. We're too busy to be dealing with this nonsense!
We have a birthday party to go to on Saturday, so we will just have to wait and see what today brings. Hopefully we'll all be able to go. Other than that, we're all just going to be relaxing and trying to feel/stay well.
I hope you all have a great weekend! Take your vitamins, get some rest, and wash your hands!
---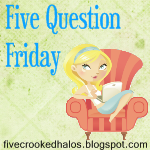 1. If you were going to be stuck on a deserted island, which 5 books, movies, people and foods would you take along?
It's too late at night (
I'm writing this on Thursday night...and I'm tired!
) for a question that requires this much thought. So here are some quick answers...
Books:
I can't tell you the last time I read a book, so I honestly have no idea what I would take. They would all be mystery/suspense type books, that's for sure.
Movies:
Again, I haven't watched a non-Disney movie in a long time, nor do I know what is out there, so I would probably pick some of my old faves - Office Space, The Hangover, Silence of the Lambs. I know, that's only three, but again, too late to think. Sigh.
People:
Brian - well, you know why. ;-) My two best friends Melissa and Rebecca - because we can always find ways to keep ourselves entertained. My friend Jenn - because we need someone to keep things lively while we're stranded. And my mom - because she would take care of us.
Foods:
I should be smart and take healthy food so that I can keep my energy up for those hot days on the beach, but hell, if I'm going to be stuck on an island, I need to find comfort in something, right? So let's see...donuts, pizza, ice cream, cheeseburgers and a huge pan of lasagna.
We have a refrigerator, microwave and stove on this island, right?
2. What is your thought on year round school?
I used to think it was a good idea so kids didn't spend all summer forgetting what they learned during the school year, but now I'm leaning the other way. The only year round school that I have ever known gave kids three week breaks after each quarter. I say just give kids the whole summer off. The logistics for working parents are easier when you can find a program for your kids for the entire summer, rather than changing up their routine every couple of months.
But then again, it might be good for the kids to take many small breaks during the year, rather than one long break. If places in the area had different programs available during those off weeks, kids could try different things, and they wouldn't get bored.
So yeah, I don't know.
3. What is your most embarrassing potty story? (Can't be one of your kids' potty stories either!) Hee Hee! This cracks me up and stems from a HILARIOUS twitter conversation...
I'm not going to go into details as to exactly WHAT was said, but let's just say that my young cousin was talking about the details of my anatomy very loudly in a public bathroom. Needless to say, I never let her in the stall with me after that. I always made her stand right outside of it where I could see her feet.
4. What's the temperature where you are?
Up until yesterday, it was WARM. Like almost 90 degrees warm. That's pretty ridiculous even for Central Florida during January. Yesterday afternoon it dropped 20 degrees in just a couple of hours, and the high today is only supposed to be 66. That's cold for me!
5. Are you a winter/spring/fall/summer person?
Summer. I love splashing around with the kids in the pool and going to the beach. We always have so much fun in the summer!