TGIF! And thank goodness it's my Friday off, too! We have a big weekend coming up with Rylie's birthday party on Saturday. My baby is going to be FIVE!
We have been planning her Hello Kitty birthday party for a couple of months now. Look at these cute
Hello Kitty invitations
I found from
funinvites
on Etsy...
This party is turning into quite the extravaganza, and RSVPs are still rolling in. My little social butterfly seems to be quite popular. I have several friends with kids who are Rylie's age, and most of them are coming. We also invited her whole class, which has 29 kids in it. I would never want a child's feelings to be hurt if other kids were talking about the party, so I always invite all of them. To my surprise, several are showing up. So yeah, this is going to be a huge party. Hey, the more, the merrier, right?
I've been bouncing around between Party City, Target and Walmart all week, and I think I have everything we need...including a 5 foot Hello Kitty helium balloon. So today I'm stuffing goody bags and making cupcakes. Rylie is so excited and can't wait until party day!
We're off this morning to apply for a passport for Bryce. We got Rylie one before our cruise in November, and since Bryce is going on the cruise in March, he needs one now. And no, you don't NEED a passport to go on a cruise, but I would rather carry around small passports than their birth certificates. Plus, if something were to happen and we ended up stuck in another country, we wouldn't be able to fly back without a passport. I'm just paranoid like that.
Oh, and one more thing...I just want to mention this crazy hot weather we're having here in Central Florida. It's kind of ridiculous. It was well over 80 degrees today! Now, I don't want snow, or really any temperatures under 50, but dang, I can't tell if it is January or June. Plus, I finally got into wearing boots this year, and I want to wear them!
OK, on to Five Question Friday. Have a great weekend everyone!
---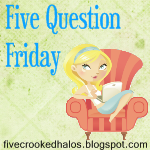 1. Flu mist? Flu shot? Or take your chances?
The kids got the FluMist. Hey, if I can avoid a shot for them, I will. I got a flu shot at work. I have never had the flu
::knock on wood::
and I don't ever want to get it!
2. Do your kids have iPads? What are some good educational apps? Price?
My kids have Kindle Fire tablets. We were actually looking at the Leappads at one point in time, and Brian decided that we might as well get them something that they can use for more than just a couple of years. They have a few educational apps on them, but I have no clue what they are. (Brian handles all of that computer techy stuff.) I know they were free, though. I have still yet to pay for an app.
3. What are your favorite boy/girl baby names?
Well, I think you know my favorites by the title of this blog. Although honestly, I wanted Bryce's name to be Carter. Brian overruled me, though.
When we chose our kids' names, both times we looked through baby name books and wrote down all of the ones we agreed that we both liked. Then every day we crossed one off until there was only one left. When it came to girls' names, we had a very long list. Some of my favorites were Rylie, Mia, Kennedy, Kendall, and Hailey. The second runner up for her name was Cassidy. I am so glad we went with Rylie!
When we were choosing Bryce's name, we only started off with a list of 5 we both liked - Alex, Bryce, Carter, Cooper and Jackson. Jackson was crossed off first because it doesn't go well with our last name. Then Cooper and Alex. It came down to Bryce and Carter, and we were deadlocked. I eventually gave in since I had pretty much chosen Rylie and I chose both of their middle names.
OK, I know the question didn't ask how we chose our kids' names, but I wanted to tell you anyway. Deal with it!
4. If an apple a day keeps the doctor away, which apple do you choose to eat? (red/green, gala, red delicious...)
I like the shiny, super crunchy, dark red apples. I have no idea what they're called. But those soft, light red apples? Yuck! Granny Smith are good, too, but for some reason, I have to have those sliced. I don't like eating them whole. Yes, I'm strange.
5. What is your favorite place to escape to for peace & quiet, to think? Why?
What is peace and quiet? Haha. I honestly don't escape for peace and quiet...I have just learned to tune out the noise, I guess.