Yikes! It's the second weekend in December already. How did that happen? Before we know it, Christmas will be here!
If you have visited the blog this week then you know what we have been up to...cruising! Even though I miraculously got caught up on my laundry right after we returned to land, I am still working to catch up on all of my online activities. I hope you're enjoying my cruise recap posts. There are still 2 more to come, with the next one being the most fun.
My goal for this weekend is to get the Christmas tree up, and at least some of the outside decorations. I don't know if we'll get everything out this year since we are already running out of time. Other than that and dance, we don't have any plans.
Who am I kidding? Just getting the decorating done will take the whole weekend!
My aunt is in town visiting and she is supposed to stop by Saturday night, so it will be good to see her.
OK, enough rambling. I'm tired and I really need to get to bed. Have a great weekend everyone!
---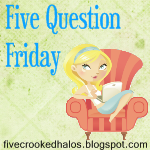 1. How many times have you moved and do you have any tips?
Up until I left home to go to college (go Noles!), I lived in the same house for all but the first few months of my life. Since then, I have moved several times - 12, I believe. Hopefully that number will remain the same for a long time!
Here's my tip: Don't wait until the last minute to pack! I need to follow that tip myself. I swear I am always packing as we are loading the truck up.
2. Do you have a budget for the holidays, or just keep sliding the credit card and have a heart attack in Jan?
What's a budget? hahaha Nope, no budget here. I just buy things as I see them. I don't really have a heart attack in January, either. Not yet, at least. I'll save those for the tween and teen years when all my kids want are video games and other expensive electronics.
3. What is the one medical thing you avoid like the plague?
I don't think I understand this question. If it means like medical test or procedure, I can't say I avoid anything. I am quite the hypochondriac, so I'm happy to be poked and prodded if it means someone can reassure me that I'm not dying.
Oh, wait. There is one thing I will NEVER have done again, and that is getting wax flushed out of my ears. I had to have that done a couple years ago, and I still cringe when I think about it. My doctor didn't realize I had an ear infection, so she ended up feeling pretty bad for calling me a baby when I was in tears during the process. Seriously, I almost punched the technician who was doing it.
4. What your least favorite Christmas song?
I'm sure I will get some backlash for this, but here goes...
Silent Night
Wanna know why? Because people ALWAYS butcher that song when they sing along. My wax-filled ears can't take it!
5. This Christmas are you spending more, less or about the same? Why?
About the same, I guess. Why? Because my kids are spoiled and I just can't help myself!