TGIF!!! And it's a good thing I am off today, because I don't think all the coffee in the world will help me. Apparently Bryce had a bout of insomnia last night, so no one really got much sleep. When I was ready to go to bed shortly after midnight, I found him playing with his toys in his room. I brought him into our room thinking that he may go to sleep, but he had other plans. Then at some point Rylie ended up in there and they were fighting over who got to sleep next to me and who was touching who. Yeah, I'm tired today. I sure do miss that little boy who used to sleep for 12 hours straight!
As always, we have a busy weekend planned! I'm off to get my hair done today, and then I desperately need a pedicure. Tomorrow starts off with dance, and then we have a birthday party to go to in the afternoon. It is going to be super fun with bounce houses, sno cones and cotton candy! Rylie's best buddy Peyton will be with us all day and night, so I imagine that we won't get much sleep Saturday night either. Then we're off to Brian's cousin's wedding reception on Sunday. The fun never ends!
I hope everyone has a wonderful weekend! For those of you who get to experience fall weather...enjoy it!
---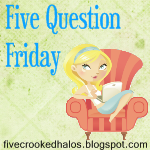 1. What album/cd/download are you embarrassed to admit you have?
Other than listening to my satellite radio while I'm in the car, I'm not really a music person, so I don't have a collection of albums/cds/downloads. I used to, though, and I had the soundtrack to Annie. For real. The sun'll come out tomorrow...
2. What's the one thing your spouse does better than you?
Anything computer or technology related. But that's a given. He's pretty much a genius when it comes to computers. Well, and anything else for that matter.
3. When do you start buying Halloween Candy?
We don't. We live on a pretty busy road, and we have never seen any Trick-or-Treaters out on our street. My kids get enough candy from school, fall festivals and Trick-or-Treating that we have no need to buy any.
4. Family closets - Yay or nay?
Heh? What's a family closet? Like everyone's clothes and shoes in one closet? If that's the case, then definitely nay. All of our closets are over-filled with just our own stuff. We would need to turn the entire guest bedroom into a closet if we tried to put everyone's stuff in one.
5. Which home/cleaning chore do you hate the most? Why?
All of it! Seriously. I hate cleaning. And that's why I don't do it. I have someone clean my house every two weeks. I refuse to work all week and then spend my entire weekend cleaning. No thanks.