Happy Friday! For those of you getting fall weather, I hope you're enjoying it. It has still been pretty warm here, and now we're getting some yucky weather from Hurricane Sandy. The weekend is supposed to be nice, though. Thank goodness!
The kids are having fun gearing up for Halloween. They have been talking about Halloween and fall at school this week, and I have to show you Rylie's latest craft project...
That, my friends, is an "Indian Scarecrow". Rylie came home from school and said "all the other kids made regular scarecrows, but I made an Indian scarecrow." I'm not quite sure what makes that scarecrow an Indian, but it's cute anyway. And would you believe she made that all by herself? The kid is quite crafty!
We're starting the weekend off with a "Halloween Dance" at dance lessons this Saturday, and then on Sunday we're headed to the pumpkin patch and fall festival with a bunch of friends. Melissa, Rick and baby Mia are coming over to go with us, and we can't wait to see them!
Rylie and Bryce are super excited about trick-or-treating next week too! Rylie picked out a
rag doll costume
, which really surprised me. She bypassed all of the princess dresses and picked out something a little different. I thought that was pretty cool. Bryce is going as
Spider-Man
. He's awesome and has muscles. Enough said.
What are you all up to this weekend? I hope everyone has a fabulous one!
---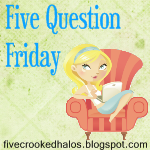 1. Who wakes up in the morning with the kids, you or hubby?
During the week, Brian and I get up first and start getting ready. He then gets the kids up and gets their breakfast ready while I finish my routine, and then we usually each take a kid and get them dressed, teeth brushed, hair brushed, etc.
On the weekend, it just all depends. Lately, the kids have been staying at my mom's house on Friday and Saturday nights, so she is the one up with them.
Lucky lady!
If they are home, Rylie is usually up first and gets me up. She doesn't like to let anyone else sleep, so if I can keep her from waking Bryce up, I usually let Brian sleep a little longer.
2. Do you watch the World Series even if your team isn't in it?
We don't watch any professional sports in this house.
3. What is the best compliment you have received?
A few months before my dad passed, he said to me "If anything ever happened to me, I would at least know that you will be OK." I was the kind of kid who always sought praise from my parents (
and anyone else who would give it to me, really
), and I always wanted to make my dad proud. His comment let me know that he was proud of me and the way I was living my life. That meant the world to me and I will continue to live my life in a way he would be proud of me for.
4. Do/did you dress up to take your kids trick or treating?
No. Honestly, I don't think I have dressed up for Halloween since I was like 18 years old. I love Halloween, and I really get into it for my kids, but I just don't have the desire to dress up myself.
5. Do you have a favorite bible verse? What is it and why?
I don't read the bible, and I'm not religious. However, I used to go to church way back in the day, and one verse that always stuck with me was "
Do unto others as you would have them do to you
" or something like that. I try to live by that, too. I am a huge believer in karma, and I think (
at least I hope
) what you put in, you will eventually get back out.