Happy Friday my friends! I'm actually writing this post up on Friday morning (
for once
) because after working on a huge spreadsheet for 9 hours at work yesterday, I had a horrible headache last night and couldn't even think of looking at a monitor. The kids spent the night at my mom's since Rylie didn't have school today, so Brian and I enjoyed a peaceful dinner out and then we watched TV. I needed a night off.
It was a busy-as-usual week, and to make it even more fun, I have been sick all week too. We had our first parent/teacher conference with Rylie's teacher, which actually went very well. I'll post more on that next week.
This weekend is a busy one, too. We have dance and a birthday party tomorrow (
does that surprise you?
), and then on Sunday I am going to be cleaning out the kids' closets and making a trip to the mall to replenish them with fall and winter clothes. I don't know if they even have any pants that fit them!
What are you all up to this weekend? I hope you have a great one!
---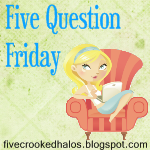 1. Where do you hide junk when people come over?
I don't. There is too much to hide. We don't have people over that often (mainly because of the junk), but when we do, they just have to embrace my junk.
OK, that just made me giggle. LOL
We do have a guest bedroom that is stuffed full of old baby clothes and crap that doesn't have a place, and our game room is piled high with baby toys, so I guess that stuff is "hidden". I seriously need to have a yard sale!
2. Do political ads help you decide who you are going to vote for?
Well since most political ads are just smear campaigns against the other candidate, my answer is no. They are all either lies, or manipulations of a very stretched truth, so I generally don't even pay attention to them. I want candidates to tell me why I SHOULD vote for them, not why I should NOT vote for the other person. Unfortunately, those types of ads are few and far between.
3. What's your favorite holiday party to host?
I have been saying for years that I want to have a big open-house-type Christmas party, but that still hasn't happened. (
See question #1 for the reason why.
) I would love for people to just pop in, hang out for a bit, and enjoy some food and Christmas cheer. Maybe one day...
4. You go to an island with your husband and can only take one personal item. What is it?
A razor. If I'm alone on an island with my husband, I definitely don't want hairy legs and pits!
5. If you found out your spouse was a Dexter style serial killer (only kills people to save others) would you rat?
Doubtful. I'm a huge Dexter fan, and now that his sister knows that he is a serial killer, I find myself hoping that she will just turn her head and let him do what he does best. The system doesn't always work, and people get away with heinous crimes.
While I probably wouldn't rat, I wouldn't stay married to a serial killer spouse, though. I don't think I would be OK with my husband bringing his work home with him.