It's Friday! It's Friday! Can you tell I'm excited? This week has just draaaaged on, and I'm ready for the weekend!
We had a first this week, but it wasn't a good first. Bryce ended up going to bed without any TV time Monday night because he was being defiant. He got so upset and had a total meltdown. It broke my heart, really, but I stayed strong and didn't give in. That was the first time I have put my little boy to bed in tears. Then Wednesday night my mom brought over cupcakes for the kids to have for dessert. They didn't eat their dinner, so they didn't get a cupcake. You would have thought it was the end of the world for Bryce. But again, we didn't give in and he didn't get a cupcake. I know that kids need consequences for their actions, but dang, does it have to be so painful for us?
Bryce is being quite the little T-U-R-D lately. Man, I thought we had escaped the terrible twos since he didn't have many of the full blown tantrums like Rylie did. Apparently it is the terrible threes for him instead. Luckily, though, unlike Rylie, his fits are usually pretty short lived and before long he is back to his goofy self again. But during his "episodes", he drives us nuts!
So here's hoping for a good weekend without too much turmoil. We really don't have much planned. No birthday parties...can you believe it? I need to get out and get some "winter" clothes for the kids since they only have a couple pair of pants each that fit them. I suppose we need to get out and get Halloween costumes, too. Bryce wants to be a shark and Rylie said she wants to be a witch again. We'll see what happens when we get to the costume store.
Have a great weekend!
---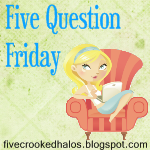 1. Did you have any homecoming traditions?
I'm assuming this means like football games and dances in high school? In that case, no. I went to my freshman homecoming dance with a friend, and I think I may have gone to a football game one year. I didn't do homecoming stuff in college either. I was never really into all of that.
2. Do you ask your spouse before spending money?
Sometimes. If I need to spend a significant amount, I will usually ask Brian how the money situation is. But if I go to the mall with Rylie or my friends, then no. He generally knows what to expect. ;-)
3. If you could be famous for something what would it be?
Well, since I'm already a pretty big deal on the internet (
insert hysterical laughter here
), it would be pretty cool to be a world renowned neurosurgeon who people come to when they are out of options. You know, like Derek Shepherd.
4. Have you ever seriously thought you were going crazy?
Every day. I don't think I need to elaborate...you all know this by now.
Oh wait. Seriously? Eh. Not really. I'm pretty good at keeping it all together. Even when I was having a horrible time with all of my weird "ailments" and the doctors were telling me I needed to see a psychiatrist, I knew better.
5. How do you eat your steak? Burger? (as in, well done, medium, still moo-ing...)
Medium-well, usually. I like just a tiny hint of pink in there. No blood, please, and definitely no mooing!