Woo hoo! The weekend is almost here! It is going to be a busy one for us, too. I'm spending the day today putting together goody bags and getting ready for Bryce's fun
Toy Story birthday party
tomorrow. The low grade fever he has been running for the past few days seems to be gone, so he should be back to 100% for his birthday bash!
My best friend Rebecca will be here later this afternoon and then we're headed to
Disney On Ice
with Mama and the kids. We were invited to have dinner with the cast before the show, so I'm sure the kids will love that. Rylie is beyond excited about all of it...especially the part about getting to sleep with Aunt Becky tonight!
We'll start Saturday off with Rylie's dance lesson and then I'll be making her special cupcakes for Bryce's party. I'll pick up Bryce's cake later on in the day and then his party starts at 4. He can't wait! We'll spend Sunday with my brother, his girlfriend and her son, and playing with new toys, I'm sure.
What is everyone else doing this weekend? I hope it's a great one!
---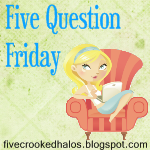 1. What is your favorite fall family tradition?
The Pumpkin Patch! We go every year. One of the big churches has the best pumpkin patch around, and we always visit and
take pictures
.
They also put on a super fun
fall festival
, and the kids get to ride a pony and a train, get their faces painted, play games and bounce in bounce houses. They have a blast!
2. If money weren't an issue, how many kids would you have?
That should read "
If money AND AGE weren't issues...
" I would love to have more kids, but honestly, we're just too old. Oh, and broke, too. If we were younger, I would have liked to have two more once Rylie and Bryce were out of daycare and in school. Brian is an only child and I have one sibling (
you remember Uncle Danny, right?
), and I would have liked to have a larger family. It is what it is, though, and I love our little family. And honestly, after spending most days with my two Energizer bunnies, I would have to be out of my mind to want two more!
3. If you were to get a tattoo, what would it be and where would you put it?
No tattoos for this girl. Ever. I can't even give a "what if" answer to this question, because it would never happen.
4. What condiment is a must in your house?
Mayo. I don't use it all that often, but I can't eat a cheeseburger without it.
5. How did your spouse/fiance propose?
Can I just plead the fifth on this one?
The short answer is that he didn't. We were together for over 7 years and we just decided to go ahead and get married. Of course I still got a ring! ;-)