Phooey on this week! I'm glad it's almost over. Just a few more hours of work and then the weekend starts. Yay!
I've been in such a funk this week. I'm still grieving over the
loss of my sweet dog
, and I just can't seem to snap out of this sad, blah mood I'm in. I have had plenty to do at work, but I can't concentrate long enough to get much done. I have several posts to write here on the blog, but the words just aren't flowing like they usually do. I'm a stress eater, too, and thanks to my horrible eating last weekend, my clothes have been a little snug this week. It's been a rough week, that's for sure. Luckily, I have these two to keep me going...
Yep. My little artist and my crazy goofball put a smile on my face at least during the hours I am with them. Those hours are few and far between during the week, though, and I wish I had more of them.
We're gearing up for a fun weekend, so hopefully our family fun will lift my spirits some. Tomorrow will start out with Rylie's dance lesson, and then we have two back to back birthday parties to attend. The kids always have so much fun at parties! Who knows what Sunday will bring (
other than the usual 496 loads of laundry
), but I'm sure we'll have some fun at some point.
I hope you all have a wonderful weekend!
---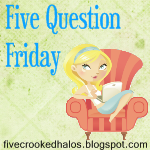 1. Do you prefer to drive to your vacation spot or fly?
Fly! Ugh, I hate road trips. Especially now that the kids watch movies. It wasn't so bad when I was by myself and could turn my music up and jam, but now I'm stuck listening to Disney movies without being able to watch them. Brian generally drives, but I can't do much of anything since I get car sick, so there I sit. No thanks.
I would much rather lug everyone through the airport 2 hours before the flight, try to keep the kids entertained while we wait to board, go to the bathroom a gazillion times during the two hour flight, keep the kids from pissing off everyone sitting near us during the flight, and then lug everyone off the plane and keep them from running around the airport while we get our luggage. That sounds way more fun!
2. If you could live any where in the world, where would you go and why?
I have only been out of the US once (other than a couple of cruises) and that was to Costa Rica. So that's my answer. It was pretty awesome there.
Or maybe Australia. I don't know much about it, but people seem to love it there.
3. Should grown women wear leggings?
If they are supermodels, then yes. But unless they are six feet tall and a size zero, then probably not.
That said, I see how comfortable Rylie always is in her leggings, and I can't say that I haven't thought about wearing them myself. I guess I could wear a huge sweatshirt over them like I did back in the late 80s, because a supermodel I am not.
4. If you could change your name to any other name, would you? And what would it be?
Probably not. But if I did, it would be something that was impossible to misspell. Like Pat. Why my mom had to put a capital A in the middle of my name is beyond me. Even without it, though, people still wouldn't spell my name right. Lee and Ann have got to be the most common spellings of those two names, so why can't people just put them together like that?
Speaking of which...we just refinanced our house the other day, and one of the documents I had to sign listed all of my known "aliases". Yeah, I had 7, I think, and most were just different versions of my first name.
5. What magazines to you have subscriptions to?
Um, none. Like I have time to read!