Happy Friday my friends! This week was so much better than last, thank goodness. Rylie got all better over the weekend and is now back to normal. Bryce has almost completely recovered from taking a
nose dive onto the pool deck
, and even though he had to get blood drawn Wednesday morning (more testing for his
tummy troubles
), he has had a good week too. I completely forgot to tell you all that he was moved up into the threes class at school last week, so he has been having a great time learning all kinds of new stuff with his new teachers!
Mama will be here later this afternoon to pick up the kids and keep them at her house tonight so Brian and I can go on a date night. We're off to Downtown Disney for dinner and then to see
Cirque du Soleil
. I'm so excited to finally see this show, and it will be nice just to get out with my husband.
Sunday is going to be super exciting because Rylie's best friend Angelica will be here to play! Angelica and her family moved to Boston earlier this year and the girls miss each other so much. We're all so excited that we get to hang out together again!
What are you doing this weekend? I hope it is a great one!
---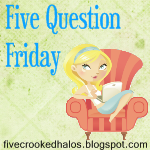 1. What is a must in a hotel room?
A refrigerator. I like to be able to keep drinks cold and have them available when I want them. I hate having to find a vending machine in my PJs.
2. Which Olympic event would you be best at?
Swimming.
In fact, I can't believe I'm not out there representing Team USA right now!
OK, for real though, I am a pretty good swimmer. I competed when I was much younger, and then again in high school.
I'm embarrassed to say that I don't even know what events are going on at the Olympics other than swimming and gymnastics (which I suck at), so yeah, swimming it is.
3. What's your stance on the Chick-fil-A subject?
I really should just plead the 5th on this, but if you read my
Chick-fil-A Tuesday
post, then you probably already know where I stand.
Here's the deal - the guy has an opinion. Here in the US, that is allowed. I imagine that many CEOs of companies do not agree with gay marriage, but this guy decided to go ahead and exercise his right to free speech and announce it. The thing is, this has been a well-known fact for a while now, so I don't understand why his interview ended up becoming such a big deal. I don't know exactly what was said, so maybe I'm missing something, but it isn't like this is something we didn't already know.
My stance is this - by boycotting Chick-fil-A restaurants, you may be hurting the CEO a tiny bit. But the people you are really hurting are the franchise owners and the restaurant employees, who are all members of the communities you live in. The franchise owners may or may not share the same beliefs, so why should we try to run their business into the ground unless we know what THEY believe? The employees at our local Chick-fil-A are the most polite and accommodating retail employees that I have ever come across. I would not want any of them to lose their jobs.
So yes, I will still go to Chick-fil-A every Tuesday. I make it a point not to get involved in issues that do not concern me. That said, I do understand if the gay community never sets foot in a Chick-fil-A again. I wouldn't want to give my money to an organization (even in the form of royalties) who then turns around and gives it to organizations that are going against something I am fighting for. I get it, I really do.
4. One thing you said you'd never do as a parent, but totally have.
When I was waiting tables and had to deal with bratty kids and clean up the horrible messes they made, I said I would never take my kids out to eat. HAHAHAHA Yeah, we go out at least twice a week.
5. What's the weirdest thing you've ever found at a yard sale?
Ummm, I don't go to yard sales. Gross.