Happy Friday everyone! Are you all gearing up for the holiday weekend? It will be business as usual around here this weekend - dance, swimming, blogging, laundry, etc - but I get an extra day off of work, so I'll take it! I actually have a lot to do to get ready for Bryce's birthday party next weekend. I can't believe he is going to be 3 already!
I hope you all have a wonderful weekend!
---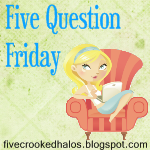 1. What do you enjoy doing the most with your spouse?
Five years ago, my answer would have been traveling. Now, though, getting some alone time away from the house is our favorite thing to do.
I also enjoy laying on the couch and watching TV. I probably enjoy that much more than my husband does, though, because I'm the one getting my feet rubbed.
I know, I have an awesome husband!
2. How do you eat your taco? From the top or from the side?
From the side. Who eats it from the top? You might as well just have one cheese taco, one lettuce taco and one meat taco. As much as I don't like mixing my food together, this is the one exception. You have to get everything in one bite!
3. Have you ever shut off the basement light and ran like a fool because you knew someone was down there and would get you?
What's a basement? LOL We don't have those in Florida. But I had the same boogie man under my bed for sure.
4. If you could change one thing about you what would it be and why?
I wouldn't cry so easily. I am the biggest dang crybaby and I hate it. I cry when I'm sad. I cry when I'm happy. I cry when I'm mad. I cry when I'm frustrated. It is so embarrassing at times, especially in a professional setting. I can't even have a conversation with someone if I am upset about something, because I'll end up bawling my eyes out. Therefore, I end up not sticking up for myself or not being able to defend myself because I generally just walk away before the waterworks start.
5. What age do you think is appropriate to have the "bird and the bees" talk with your children?
I don't think there is an "appropriate" age. I think you should have the talk when your children start asking questions. You can tailor the discussion to their age, but you should be honest and not make up silly nonsense just because you might think your child is too young for the facts.