Happy Friday my friends! I hope everyone has had a wonderful week! Things were a lot less exciting around here this week. Work was dull, which was a nice change from the prior week. I'm still tired, though. I am beyond backed up on reviews here, but I just didn't have the energy to get them done this week. I have some cool stuff coming up, so hopefully I'll be able to get some of it posted in the next few days. For right now, though, I need some sleep.
The kids had a good week. My mom picked them up from school and took them to swimming lessons every day. Bryce did great all last week, but apparently he has decided that he does NOT want to float and cried 3 out of his 4 lessons this week. On two different days he even said to the teacher "I am NOT coming back to your house anymore." I really don't care if he ever floats, so I'm hoping that they'll just move on to real swimming so I can stop having panic attacks every time he jumps into the deep end of the pool. Rylie is doing great and can swim the entire length of the pool now. I'm so proud of her!
School is going well. Bryce has received good notes every single day since he moved into the three year old class, and I hope he keeps it up. Everyone at the school just loves him so much. Rylie's teacher wrote a note on her paper earlier in the week about how well she is helping out her new friends by showing them where the toys are and teaching them the rules. The owner even made a comment to me about how responsible she is lately and how she is so protective of her brother. Too bad she isn't his protector at home. ;-)
What's everyone up to this weekend? We're not doing much of anything, thank goodness. Rylie has dance on Saturday morning, and then the kids will probably spend the afternoon at Mama's house so Brian and I can get some work done around our house. Bryce's birthday party is in two weeks, and I have A LOT to do. I can't believe he is almost three years old!
Have a great weekend!
---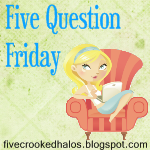 1. If you could have been (could be) any profession you wanted (brains and $$$ no problem) what would it be?
I have always wanted to run a doggy day care. What could be more fun than playing with dogs all day?
Did you expect me to say something like "doctor" or "lawyer"? Those would have been my answers back when I was a kid, but now that I'm a grown up (
or at least trying to be one
), I know better. I could never be a doctor. I second guess myself way too much and would never be able to make a decision, especially when someone's life is in my hands. And lawyers work way too much. No thank you.
2. How often do you clean out your car?
Once or twice a month, and usually at the gas station. I have this big open section in the console between the two front seats of my SUV that ends up being used for garbage. I usually shovel out my truck when that gets full. I'll either do it at the gas station if the pump has one of those catches on it so that you don't have to stand there and hold it the whole time, or I will finally just get fed up and run outside one night after dinner and do it.
The back seat is a different story, though. I can't tell you how many toys are rotated in and out of my truck on a weekly basis. There is crap all over the place back there, and usually I just can't be bothered. Hey, I figure it is less junk in my house, right?
3. Do you wish there was such a thing as fashion police or are you deeply relieved?
Oh God NO. I would get so many tickets!
4. What's your go to food/drink/activity when stressed?
Chocolate. Chocolate makes everything better.
5. If you had twins, what would you name them?
I have no clue. I had a hard enough time coming up with names for my kids.
I can tell you what I would NOT name them, though. I would not name them with names that rhyme, or with similar names. I knew twins named Eric and Erica when I was a kid. Really?