Happy Friday! I'm sitting here writing this on Thursday night with a full belly after an awesome dinner. I'm literally in a food coma right now, so I'm going to make this short and sweet. Well, as short as a post can possibly be for me...we know that doesn't happen often here!
So what was so awesome about my dinner? This...
That is the new
King's Hawaiian Pork & Slaw Sandwich
from
Firehouse Subs
. Have you tried it yet? If not, you need to! It is absolutely delicious! My full review will be coming soon (along with a giveaway...YAY) but you don't want to wait. Trust me!
Does anyone have anything awesome planned for the weekend?
Besides going to Firehouse Subs, that is.
My mom is moving some of her stuff over this weekend, so we'll be busy with that on Saturday, and then we'll all just hang out in the pool on Sunday with my brother and his crew. Hopefully we'll have an uneventful weekend and just be able to enjoy some family time.
Have a great weekend!
---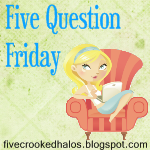 1. Is love at 1st sight possible?
I don't know. I think love can happen pretty quickly, but there is so much more to a person than just their looks, so I don't think "love at 1st sight" ever really happens. You may be instantly attracted to someone, but attraction definitely doesn't equal love.
2. How did you choose your pet's name?
So much for a short and sweet post. I have had a lot of pets. Here goes...
Smokee
- She was my sweet cat and the first pet that I owned as an adult. She was a beautiful Russian Blue mix that my cousin and I found in a tree at my aunt's house in Alabama. Up until that point, I didn't care for cats, but I couldn't resist her cries for help. Once we helped her out of the tree (that is another full post in itself), I decided that she would be mine. My cousin was young, maybe 10 or 12 years old, I think, and she had a teacher who she loved named Mrs. Locket. She wanted to name the cat "Locket", but I quickly vetoed that and we went with Smokee because she was a grayish color. We just spelled it a little different than usual, because she was no ordinary cat.
Morgan
- The cat I got to keep Smokee company after we moved out of the apartment I shared with my best friend and her cat. I was in college at the time and his name was really Captain Morgan. Do I need to say more?
Cosmo
- The first pet Brian and I had together. He was a beautiful golden retriever who I still miss so much. We had him for a couple of days before he had a name. We were pretty much just calling him "puppy". I was heading out to run errands one day and I said to Brian "you need to name this dog while I'm gone." When I came back I was presented with "Snickers" and "Cosmo" as my choices. Obviously I chose Cosmo. His full registered name was Cosmo Canis Major, and he definitely lived up to that name.
Chloe
- She is Cosmo's biological sister, just from different litters. We got her shortly after Cosmo's first birthday so he would have a playmate. Her name was easy. I always said that when I had a baby girl I wanted to name her Chloe. Well Brian didn't care much for that name, so I figured since I would never have a daughter by that name, I would give the name to my dog. Her full registered name is Chloe Golden Sunshine. Laugh all you want, but when her papers came back to me, there was a II after her name because someone had already used the same name!
Shadow
- The sweet cat I rescued from foster care after he was tossed outside repeatedly by his owner. (With no front claws!) He had his name when he came to us, and we decided to keep it.
We also briefly had a cat who I named Phoebe. I don't know, I just liked the name. I found her on my front porch one morning, skinny, scared and sick, and in desperate need of TLC. We did everything we could to make her better, but after countless vet visits and a couple thousand dollars, we finally had to give up.
3. What are you considering giving up (cable, home phone)?
Brian and I recently had a discussion about giving up cable. The kids pretty much only watch movies on DVD, and we can watch the shows we want to watch online. We haven't completely decided on this yet, but we are definitely considering it.
4. How much do you pay your babysitter?
Well, with my mom living so close (and even closer here in a few weeks), we have only paid babysitters a few times. I am pretty sure when it was just Rylie we paid $12 an hour, and for both kids we paid $15 an hour. It was so long ago, though, I actually don't remember.
5. How "young" is old enough to babysit?
Remember this post about
teenage babysitters
? Well, just in case you missed it, I would generally not have a young teenager babysit my children. So for the purposes of this question, let's just say 16, and there would be rules about texting, phone chats, etc. But in reality, even that will probably never happen. Other than a few close friends and family members, the only people who we have had babysit for us were the kids' daycare teachers who are certified in CPR.