Wow! What a week! I am certainly glad it is coming to an end, that's for sure. The kids had a fun few days with my mom earlier in the week. They got to skip school and do fun things like go to Sea World. They are so lucky to have such an awesome grandma!
Work was crazy this week. Our budget for the next fiscal year was due on Tuesday, and I found out as I was leaving last Friday that all of our information had to be transferred to a new template. This template was an Excel spreadsheet with over 12,000 rows and like 70 columns. I worked all day on it Monday, Tuesday and Wednesday (
obviously we didn't get it in Tuesday
), left at like 8PM on Monday and Wednesday, and I am now blind and suffering from carpal tunnel syndrome. OK, well, I'm not
really
blind, but I think I might need a new prescription for my glasses.
I was looking forward to an easy day at work yesterday after all of that hell, and a birthday lunch with a good friend, but Rylie had different plans for me. As she was getting ready for school I noticed that she looked extremely pale, so I asked her if she was OK. She said that her belly hurt and within seconds, she was throwing up. (
Luckily she was already in the bathroom!
) This went on most of the morning, and just when I thought she was in the clear, it started back up again later in the evening. This is how my poor little girl spent most of her day...
As I sit here writing this post on Thursday night, she is sleeping peacefully with a low grade fever, so hopefully she will feel better today!
I was supposed to take Rylie to sign her up for dance today, and then to get her a passport, but who knows if that will happen. We don't really have plans for the weekend, so hopefully I can get caught up on blogging stuff and housework since I was too exhausted (
and blind
) to do any of it during the week. We'll see.
Anyway, I hope you all have a great weekend! Does anyone have any fun plans?
---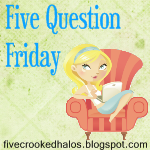 1. What is the funniest thing you saw on Facebook/twitter this week?
Well being that I was barely on Facebook or Twitter this week due to all of the craziness, I don't remember being particularly amused by anything. I guess the funniest thing I saw was a picture I posted. Bryce did not want to go to bed last night and was being a little pill. He kept getting up, and then when we told him to stay in bed, he threw everything out of his bed. The next time he got up I told him that if he didn't lay down I was going to close his door, so he laid down on his pillow on the floor. I decided to just ignore him and went back to work. When I checked on him an hour later, everything was out of his bed, he had taken his pajamas off (thank goodness he left his Pull Up on) and he was sleeping in his bed with his legs over the side. His room, that was clean when he went to bed, looked like a tornado ripped through it. So you know I had to post a picture!
Sorry, I don't post Pull Up only pics here...he's getting a little too old for that.
This one isn't particularly funny, but it is super sweet and I'm sure it made people smile. This is from the night before, when he was being the good sleeper he normally is...
Crappy cell phone pic taken in the dark. I did my best!
If you missed my post about Bryce's
love affair with Belle
, make sure you check it out.
2. What is your favorite Olympic event?
I almost hate to admit this, but I usually don't watch the Olympics. If I happen to catch a glimpse of gymnastics, I will watch a little bit of that. So I will go with gymnastics. Final answer.
3. Do your kids to chores around the house? If so, what are they and how old are the children? Do they get paid for them?
No. They are too young. But they probably won't have many chores when they are older. I just don't believe in making children do a lot around the house. I didn't have chores when I was a kid and I turned out to be a very responsible adult. Sure, they will have to keep their rooms clean and pick up after themselves, but I won't make them do the dishes every night or take out the trash or anything like that. If they want money when they are older, then they can earn it, but chores will not be regular, assigned tasks in our house.
4. If you get bad service/food do you complain or keep quiet?
It just depends. I have nothing against sending food back if it sucks, even though I know I'm taking a risk that the cooks will do something to it. But I generally won't go out of my way to complain to a manager or call a corporate office or anything like that. If a manager/owner happens to be making the rounds and comes by, sure, I will be honest, but I am not one to cause a scene.
5. If you could pick ONE frivolous item for your home, what would it be? (massive room sized closet? swimming pool? greenhouse? etc...)
A four car garage. That way we could still have all of the junk in half of it and still be able to park our cars inside.