Happy Friday everyone! It has been a rainy week here in Central Florida, and I'm still trying to recover from our Magical Getaway and all of the fun we had last weekend. I sure do wish we had a few more hours in each day so I could at least get some of the piles of laundry done!
What's on the agenda for this weekend? We have another fun weekend planned. On Saturday we are celebrating the birthday of one of Rylie's best friends by going out on a boat with her family. We'll also have a picnic lunch and swim in the pool at their condo, and of course there will be cupcakes and presents! I just hope this crazy rain stops so we can enjoy the day. As of right now, we have no plans for Sunday, and I hope to keep it that way. We have another mini-vacation coming up next weekend, and I have got to get stuff done around here to get ready for that. The fun never ends around here!
I'm working today, and as I sit here writing this post on Thursday evening, I can barely keep my eyes open, so let's get down to 5QF business...
---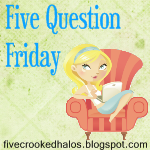 1. Did you do anything special for your kids on the last day of school? Or did you parents do anything special for you?
My kids don't yet have a "last day of school", and I don't think my parents really did anything special for us. Just being out of school for the summer was special enough!
2. What's your favorite summer tradition with your children?
Swimming! My kids love to be in the pool, and we always have so much fun when we swim.
My favorite summer tradition with my parents was our summer vacations, and I hope to continue that tradition with my kids once they are a little older. This summer will include several mini-vacations because I'm not quite ready for the long road trips like we took, but longer vacations are definitely in our future.
3. What was your favorite thing to do during the summer as a kid?
See #2. I loved going on vacation! My parents (especially my dad) made our road trips so much fun, even though as we were taking them, I didn't always see them that way. I will never forget those two weeks every summer that my dad took off from work. He created some great memories for my brother and me!
4. How old were you when you were married? Were you a Bridezilla?
I was a few days from turning 32 when I got married. Surprisingly, I really wasn't a Bridezilla. We planned our wedding for about 6 months, and everything came together very nicely. I hired a day-of coordinator to take care of things on our wedding day, and she took on all of my stress for me. It was wonderful!
5. What is your favorite girl name? (I'm needing suggestions.)
Well of course I love the name Rylie. I also like Mia, Chloe, Allison, Taylor, Kennedy, Hailey and Paige. There were plenty of others on our girl list (way more than we had on our boy list), but those are the few that popped into my head at the moment.