TGIF!!! Today is an off-Friday for me, and boy do I need it! Life has just been crazy, and I don't see it getting less crazy any time soon.
So today I'm off for a spa day with my best friend Rebecca. She is coming up to visit for the weekend, so we're going this morning for massages, facials, pedicures and lunch. I can't wait!!! I honestly feel sorry for the massage therapist who gets to work out the knots in my neck and back. 12+ hours a day on the computer makes for very tight muscles!
We have no other plans for the weekend, which I am beyond happy about. It is going to be all about cleaning. Well, at least as much cleaning as I can do with the two little tornadoes following along behind me and destroying everything in their paths.
On a good note, Bryce seems to be fully recovered from the bug that took hold of him over the last week. His R&R with Mama seemed to pay off. Oh, and the sun is shining again! So long Debby!
Do you have any fun plans for the weekend? I hope it's a great one!
---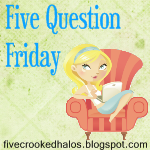 1. What's your favorite childhood snack that you still eat as an adult?
Does candy count? I honestly don't remember us doing much snacking as kids. I do remember that we used to love Little Debbie snack cakes, but since they come with tree nut allergy warnings, we cannot have those in our house. Boo!
Ooooh, I know. Oreos! When I was little, my grandpa used to make "plop-plops" for us. Basically we dunked Oreos in a glass of milk, and eventually just crushed them all up and dropped them in. I still love Oreos, but haven't had a plop-plop in years. I will have to introduce my children to the deliciousness of plop-plops someday soon!
2. What food will you not eat the low fat version of?
It isn't that I WON'T eat it, but I definitely prefer the full-fat version of condiments - mayo, Ranch dressing, cream cheese, sour cream, etc. Oh, and cheese. Low fat cheese is just gross!
3. What's your favorite way to cool off during the summer?
Swimming! Or better yet, hanging out in the pool with an ice-cold adult beverage. I think I hear a mojito calling my name...
4. What's your favorite summer read?
Read? Who has time for that? Especially during the summer. There is way too much to do!
5. What are you doing to stay cool in this awful heat?
I wish I could say "staying inside in the A/C", but with my two active little kids, that isn't possible. I wear the lightest clothes possible when we go out, and encourage water activities as much as I possibly can.