Wow! It is June already! I swear this summer is going to go by in the blink of an eye. We have so many fun events coming up over the next few weeks, including a super fun blogger event this weekend. I'm so excited!
Speaking of blogger events, I finally got to meet one of my closest
blogging
friends in person last night! Xenia, from the awesome
Thanks, Mail Carrier
blog, and I have been talking ever since I won a Pillow Pet from her blog over two years ago. We have pretty much talked every day since then, and I consider her one of my closest friends. Who would have thought a Pillow Pet could spark such a wonderful friendship? Anyway, she is just as sweet in person as she is online, and her little girls are even cuter than they look in the pictures she posts. We are going to have some great times this weekend!
I will also be hanging out with one of my oldest friends this weekend.
By "oldest", I certainly don't mean OLD.
Colleen, from
Shibley Smiles
, and I have known each other since middle school, and we are still great friends all these years later.
OK, so maybe we are old.
I'm so excited to see her again since our busy lives prevent us from getting together more often.
So anyway, TGIF!!! I hope everyone has a great weekend like I am certainly planning on having!
---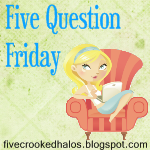 1. What were you scared of as a kid?
Fire. To this day I am still scared of fire. I have no reason to be, either.
Well, other than the fact that it can burn your house down.
For some reason, though, I used to always worry that our house would catch on fire and my parents wouldn't be able to get to me. This, of course, has led to some OCD "checking" before I leave my house. I even made Brian buy me this outlet to plug my flat iron into that shuts off after 30 minutes.
2. Do you sleep well in a hotel?
I sleep well anywhere. At my desk, on the couch trying to watch TV, and in the car...even when I'm driving. No lie. I fell asleep once going over 80 mph on I-10 one night and woke up in the median. Needless to say, I stayed awake for the rest of my drive.
I was tested for narcolepsy, and even though I'm not a true narcoleptic, I was diagnosed with "narcoleptic tendencies". I get it from my mom, who most likely is clinically narcoleptic. Thank goodness for coffee!
Even though I sleep well in a hotel doesn't mean my back will be feeling all that great in the morning, that's for sure.
3. If you could meet any celebrity, dead or alive, who and why?
This is a tough one. I don't know that there is really ONE celebrity that I'm dying to meet. I think if I were able to spend time with one, I would want it to be someone funny like Ashton Kutcher, Adam Sandler or Jim Carrey. Can you imagine how much fun an afternoon with one of them might be? If I were just meeting someone for a quick hello and a
handshake
hug, I would say George Clooney, Eric Dane, Matthew McConaughey, or Shemar Moore. Just for the eye candy factor. Mmmmmm.
4. It's a hot summer day. Do you prefer to be pool side or at the beach?
Pool side. While I do enjoy taking the kids to the beach on occasion, hanging out around the pool is so much easier. You don't have to lug a gazillion things out with you, and you don't have sand stuck in every little crevice of your body when you're done. I also don't care much for the feeling of salt water on my body. It is way too sticky!
5. What is your favorite summer dish?
I like good old fashioned summer barbecues - hamburgers, hot dogs, corn on the cob, potato salad, and maybe a little watermelon. Yum!