Wow! What a week! What was supposed to be a 3 day work week turned into a 2 day work week because Bryce got sick. Well, he was actually sick over the weekend when he woke up Saturday morning with Croup, but the steroids cleared that up within a day. Then on Tuesday morning he woke up with a low grade fever and just didn't look well, so I kept him home.
Wednesday was crazy at my "real job" because our budget was due and that was my last day of work for the week. I didn't even leave until almost 8. Thursday I was supposed to be packing for vacation, but the kids and my mom convinced me to let them stay home from school, so needless to say, I got nothing done. We also closed on my mom's house (YAY!!!) and I ended up taking Bryce to the doctor where I found out that he has an ear infection. Grrrrr. I thought we were done with those! He had his first dose of antibiotics and ear drops last night, so he should be on his way to feeling better in no time. Thank goodness!
So here I sit after 10PM on Thursday night writing this up, with nothing packed.
Hey, I work better under pressure anyway.
That said, I better get to it...
---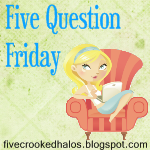 1. Would you grow your hair out to donate it?
Sure! But trust me, no one would want this mess!
2. What song makes you think of summer?
Summer summer summertime...
OK, no really. I do have an answer. But you guys can't laugh.
Party Your Body by Stevie B.
Or really, anything by Stevie B. For real. There was this one summer when my best friend and I drove out to the beach almost every day, and we listened to that album (on cassette tape) almost every time.
And just in case you youngins have no clue who I am talking about, you can listen to this jam below. Be prepared, you may want to get up and dance! (
And don't even ask me what a cassette tape is!
)
3. Are you a flip flops or sandals kind of person?
Flip flops! In fact, other than a couple pair of heels, that is pretty much the only type of shoe I wear. I wear them pretty much year round, too!
4. Favorite summer treat (ie ice cream, snow cones, etc)?
Gelati! There are a couple of places around my house where we go to get the delicious Italian ice and ice cream parfait. Speaking of which, we haven't been out for Gelati in forever. We need to remedy that situation quickly!
5. Do you do something special for the father of your children on Fathers day?
I usually get him a card. Well, two. One from me and one from the kids. That's special, right?