Wow! May is here already! Which means I am another year older. My birthday was on Tuesday, and it was a great day! I was serenaded by my kids on the way to school, got some funny and thoughtful cards (
yes, multiple
) from my sweet husband, had lunch with my coworkers and a little party with cake, and spent the evening at Kids Night at Chick-fil-A. I can't think of any better birthday dinner!
Well, OK, maybe I can.
These next two months are going to be crazy busy, and as usual, this weekend is no exception. I'm off today, so hopefully I can get some stuff done while it is quiet at home. First on the agenda, though, is getting my grays covered up this morning so I can go back to looking less grandma-like. We have a birthday party to go to tomorrow and then we're hanging out with friends afterwards. On Sunday, I'm hoping to make our first trip of the year to the beach. We'll have to see how exhausted we are after Saturday.
I can't believe I haven't mentioned this here yet, but last weekend was super exciting! My best friend had her baby girl and I got to snuggle that beautiful little newborn on Saturday! I'll have to ask her mom if I can post a picture here, because she is just the cutest little thing. I can't wait to see her again!
I hope you all have a wonderful weekend! Now for some 5QF fun...
---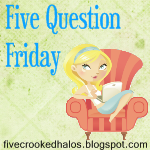 1. What did you wear to prom? Include a picture if possible.
I didn't go. My boyfriend was older and out of high school and I just wasn't into it. Honestly, I don't think I missed much.
2. Would you rather be on the biggest loser or a food eating challenge?
The Biggest Loser. While I can pack some food away, I can't eat
THAT
much. I would certainly barf at some point. And while I don't necessarily want to lose any more weight, I would love for someone to push me to get my flabby, out of shape butt back into shape.
3. Done fave sonic drink? Refreshing summer drink? (Hey, Kristina...was that a typo, or some "done good" Southern thing?)
I am also a little confused about this question. If it is asking what my favorite Sonic drink is, well the answer is Cherry Limeade. Yum! My favorite refreshing summer drink would have to be a mojito. Double yum! It doesn't get much better than sitting out by the pool and drinking a mojito or two (or five)!
4. What was your first car, and what did you call it?
My first car was a white '86 Mustang LX, which I paid for. My dad was a big Mustang fan at the time, so that is what I had to have. We actually purchased it before my 16th birthday, so every time my parents needed to go somewhere, of course I volunteered to drive. Sadly, I never named it.
5. What's one thing your child or spouse does that sends you over the edge?
WHINING!!! I seriously cannot take it any more. Rylie has been especially whiny these past few days and I don't really know why. I heard that there is supposed to be this huge full moon this weekend, so perhaps that is the reason. I know it sounds strange, but the full moon seems to have some effect on her. I can always tell when one is coming. Anyway, yeah, I hate whining. I would rather watch a temper tantrum than listen to whining...especially when it goes on for what seems like forever!