Happy Friday! I'm spending the morning at school with the kids for "Muffins with Mom", so the day will definitely start off happy for me. Rylie has been waiting for this all week, and she is so excited! The first thing out of her mouth every morning is the countdown of how many days are left. After I hang out with the kids and get the cute little gifts they have been making for me at school, I'm off to work where I will be counting down the minutes until 5:30. Hurry up weekend!
We will be getting in our pool for the first time of the season this weekend, and we are all so excited! I recently received some products from
SwimWays
, and I can't wait to get in there and teach my kids how to swim. It is going to be such a fun summer! I think we're meeting my mom halfway for Mother's Day lunch on Sunday, and that is really the only plans we have all weekend. Woo hoo! Maybe I can get some stuff scratched off my to do list.
Speaking of my mom... these trips to meet her halfway will soon be coming to an end. Why? Because we found a house for her! Our offer was accepted last Friday, and we had the inspection done yesterday. Now we are just waiting for a closing date! I am beyond excited about this!!! The thought of having my mom only 5 minutes away from us makes me absolutely giddy! I'll post more about the house next week.
I hope you all have a wonderful weekend!
---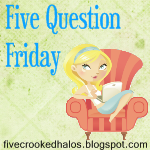 1. What advice would you give a couple getting married?
Communicate. There will come a time in just about every marriage when life is tough, especially when you have young children. You have to keep open lines of communication with one another so that things don't keep boiling up inside. Just like a pot of water...it can only boil so much before it boils over. Well, either that, or it evaporates into nothing.
2. If you could tell your 16 year old self ONE thing, what would it be?
Knock off all of the childish games with your friends. Once you grow up, you will all end up being friends again, and then you will regret the time you missed with each other because of stupid nonsense.
3. What do you do to keep cool in the summer? (AC, windows, fans, swimming, etc.)
Air conditioning! It is a must in Florida. We like to swim a lot during the summer too.
4. What did you (or your wife) crave most while pregnant?
When I was pregnant with Rylie I craved Zaxby's chicken and fountain Coke. With Bryce it was cheeseburgers. In fact, for the first four months, cheeseburgers were about all I could eat because everything else made me sick. I ate lunch most days with a friend at work and whenever she would ask me where I wanted to go my reply was always "any place that has cheeseburgers."
5. Who is your favorite TV mom? Why?
I don't know if it is because I'm ridiculously tired right now or what, but I cannot for the life of me think of an answer to this question. I'll have to think about this some more...