Happy Friday to everyone on this Good Friday! It is definitely a good Friday for me since I am off work today. I'm meeting a good friend for brunch today, and then I am getting rid of my grays later on this afternoon. We'll have our usual family dinner out tonight, and then we have a busy day tomorrow celebrating Cole's birthday, getting hair cuts, and taking Rylie to see the Easter Bunny. Oh Bryce will be going too, but as Rylie said earlier tonight, "There is no way Bryce will go near that bunny!" She knows her little brother all too well.
What is everyone doing for Easter? We don't usually do much for Easter, and this year is no exception. My mom is going to be coming to stay with us for a week after next weekend, so we're going to save her some gas and time and meet her and my brother halfway for lunch on Sunday. The kids will get Easter baskets on Sunday morning, and by the time they come down from their chocolate bunny high (
provided I can find a chocolate bunny that doesn't come with tree nut warnings
), it will be time to head out to meet my mom.
Before we know it, Monday morning will be rolling around. The weekends just seem to zoom by!
Have a great weekend, and have a Happy Easter!
---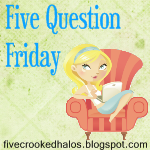 1. Would you prefer having people over for dinner or going to their house?
If you had asked me this question five years ago, I would have said that I would prefer having people over. I loved to entertain! We had dinner parties all the time, and I had no problems with inviting people over at the last minute to BBQ on a Saturday.
These days, I would much rather go to someone else's house. I would have to take a week off just to get my house picked up enough to have anyone over! Plus, then I get to go stuff my face and let someone else deal with the mess.
So who wants to invite us over for Easter dinner?
2. Favorite Bible verse and why?
I don't have a favorite Bible verse. In fact, I can't even remember any that I knew from my old Christian summer camp days.
3. What was the first concert you ever attended, and the most recent one?
I am pretty sure that my first concert was Jimmy Buffett. We had a suite at the concert stocked with food and a full liquor bar. That might explain why I don't remember exactly who was in concert!
The most recent concert was when I saw Tim McGraw with my best friend Rebecca several years ago.
I'm not a big concert person. In fact, I think concerts are usually boring. If I want to hear someone sing, I'll turn on the radio or put in a CD.
4. The year is 2025. What are you doing, and what have you done?
Well let's see. That is 13 years from now so I imagine I will be pacing around the house, wondering what kind of mischief my teenage daughter is out getting herself into. I can only hope that what I have done is raised two responsible teenagers who make the right decisions.
5. What's your favorite Easter treat?