Happy Friday! The weekend is already here for me, and it is going to be a good one! Brian and I will be celebrating our 5th anniversary tomorrow, so we are going away for a fun, adult-only weekend. Woo hoo!
We had been planning to go away on a nice trip for our 5th anniversary, but that all changed several months ago when my best friend announced that she was pregnant and due on April 21st. There is NO WAY I want to miss seeing her beautiful baby girl on her birthday, so we decided to stay close to home, just in case. We're heading over to Tampa for the weekend for a nice dinner tonight, and then riding the roller coasters at Busch Gardens tomorrow. There will be alcohol involved, I'm sure, along with some much needed R&R for both of us.
Have a great weekend everyone!
---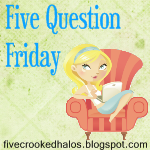 1. Groceries are high right now what is easiest way you have found to cut back?
Brian does most of the grocery shopping in this house these days, so that is how I have cut back. I am unable to go to the grocery store and only get what is on the list, so I always end up spending more on items we really don't need. He sticks to the list, and he buys generic, which is something I don't do.
2. What are the top 3 things on your "bucket list"?
I don't have a bucket list. If I want to do something, I do it. Life is too short to wait. I'm not really a thrill seeker, so I definitely won't be jumping out of airplanes or anything crazy like that before I die.
3. Would you rather give up AC or heat?
Since I live in Florida, I will definitely say heat. There is no way I could live without AC. I really hate being cold, but you can always put more on...you can only take so much off.
4. What's your favorite cocktail??
Mojito! It has to be made correctly, though.
5. What was your first job & how old were you?
Does babysitting count? If it does, I believe I was 12. After that, I shoveled horse crap at a stable when I was 14. I got paid $0.50 per stall, unless it was a "dig out", and then I got paid $1.00. Big money!