Oh my! It is Friday the 13th. Between the full moon last week and Friday the 13th today, no wonder my kids have been acting like stark raving lunatics this week! I was really hoping for a quiet night at home tonight too. What are the chances of that happening?
I'm also hoping for a pretty quiet weekend. We're going to a birthday party Saturday morning, but other than that, we have no plans for the weekend! My mom is coming up Sunday so I'm planning to spend the day getting caught up on blog stuff and housework. Yeah, we'll see how that goes...
Have a great weekend everyone!
---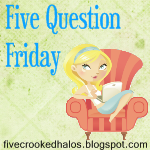 1. Who mows your grass?
Pepe. And his kids, I guess. He owns a lawn service and has been doing our lawn for years. We haven't owned a lawnmower since 2000!
2. Do you have a picture wall or picture gallery in your house (show us! --- my addition to the question)?
No, but I would love to! I have this huge open section of wall in our dining room and I would love to fill it with pictures. I just need the time to do it. Ha!
3. What book has influenced your thinking the most? Or, what blog? (I want to read what gets people thinking!)
Hmmm. I don't think there is a book or a blog that has really influenced my thinking. I have been reading every post from
The Nut-Free Mom Blog
which has helped me get more of a handle on Rylie's allergy, and made me less fearful of sending her off to elementary school, but that is about as close as I can get to a blog that has really influenced me.
4. Do you have allergies? If so, how do you handle it this time of year?
Yes. I am allergic to dogs, mold, dust and a certain type of grass. The first three don't bother me, but either the grass or something else is killing my throat the past few days. The whole side of my neck even hurts from it. The same thing happened last year at this exact time too. It lasted like two months and I even had to get scoped by an ENT, but they couldn't find anything. The pain is excruciating!
5. What's your go to meal to cook in an hurry?
Ummm, Chick-fil-A? McDonald's? Oh wait, I don't cook those. I guess I'll have to go with waffles. That's a meal, right?