Happy Friday, my friends! I hope everyone had a fabulous week! I started my week out with only one kid since Rylie stayed at my moms after we visited last weekend, so the beginning of the week was pretty peaceful around here. Mama and Rylie came back Wednesday so Brian and I could go to a screening of
John Carter
(great movie, BTW), and Mama is taking the kids back to Sea World today. We're off to
Mardi Gras
at Universal Studios on Saturday, and then we're looking at some houses for my mom on Sunday. Have I told you all that she is moving here? YIPPEY!!!!
Have a great weekend everyone!
---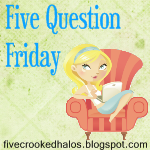 1. Are you looking forward to the time change this weekend?
Yes! Before I had kids, I didn't care for daylight savings. I felt like I couldn't just veg out on the couch after work if the sun was still shining. My feelings are different now. I can't stand picking the kids up in the dark, especially in December when it is almost pitch black by 6PM. Next week we will be able to come home and eat dinner, and then we will still be able to play outside for a little bit before bath time. Yay!
2. Are you getting the new iPad/would you want a iPad?
No and no. I still don't get all of the hype over iPads. What do they do, really? I don't even like using laptops, so I can't imagine what good an iPad would do for me. From what I gather, everything that can be done with an iPad can be done on my phone, and for a heck of a lot cheaper, too. Maybe I'm missing something?
3. If money was not a problem, what is the one thing you would splurge on?
At this moment, I would splurge on a nice house for my mom. She is moving over here in a few months and I would love to be able to buy her a house that we didn't have to do any work to before she moves in. I would also hire full-service movers to move all of her
crap
belongings. It is not going to be fun moving 36 years of her life, that's for sure!
4. How did you and the Mr. (or Mrs.) meet?
We met at work in '98. I moved to Orlando for my first "real job" out of college and he was already working there. He was friends with one of my girlfriends and we hung out a lot. One night we decided we should be more than friends, and we have been together ever since.
5. Summer is right around the corner. Bikini or one-piece?
Bikini. I can't bring myself to wear a one-piece. It would be like trading my SUV in for a mini-van. Even when I was still carrying around my "baby weight", I didn't do the one-piece suit. I didn't go out in public, either.