Happy Friday! I can't wait until the weekend is here! We're off to see the bestie for probably the last time before she has her baby, and I can't wait!
I'm beyond stressed out about the house hunting we're doing to try to find my mom a house, and I'm ridiculously tired, so I'm just going to get right down to business here today...
---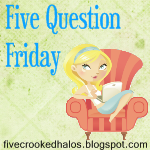 1. What giveaway would you like to do on your blog?
A bounce house.
First off, it would bring crazy traffic. Wait, you guys didn't know I like to do giveaways for the potential traffic? While I love to send those "You WON..." emails out and give free stuff away, of course I have an ulterior motive.
Second, my husband won't let me buy one. He thinks it would be too much of a hassle to store it, and we wouldn't want to leave it out in the weather all the time. But if I just happened to get one for a review...
2. If you had to choose between natural artistic ability and natural athletic ability, which would it be?
Athletic. But that might be because I have never had artistic ability, so I really have no use for it now.
3. Do you ditch the coat the minute it becomes "spring" or are you a holdout for more cool temps?
Coat? What's that?
OK, really, though...I just recently took my hoodie off of my dining room chair and put it in my laundry. I left it out just in case we had a few more cool mornings, but I don't think that is going to happen.
4. What would you do if you won the mega millions lotto of 1/2 billion dollars?
The first thing I would do is quit my job. I really do like my boss, though, so I would probably go in a couple hours a day for a week just to get him up to speed, but it would be at my leisure.
I would also find a huge piece of land somewhere in North Carolina and build a big ole house on it. I would build my mom a house on the same piece of land. We would just take cruises until the houses were finished.
I wouldn't hire a teacher for my kids, because I think they still need to be in school for the social interaction, but you bet your ass I would have a maid and a cook on staff!
Once we were all settled in, I would sit outside by my resort-like pool and read all day. Or maybe I would ride one or two of my horses. Oh, and travel. Really? I would do whatever I wanted to do. Ahhhh, the life.
I would also give some of it to my favorite charities and my friends who have done right by me over the years. I mean really, who needs THAT MUCH money?
5. You are at a hotel by yourself...what do you do?
Sleep! Which is what I wish I was doing right now...