Wow! It is March already! It sure feels like spring is here in sunny Florida, too. We're supposed to get a "cold front" this weekend that will bring the temps back down to the mid-70s, but this week has been WARM. Rylie has been wearing all of her cute new spring clothes and Bryce is happy to be back in shorts again. I actually wore a white skirt to work yesterday and consulted with my friends on Facebook as to whether or not that was acceptable. The general consensus was that we don't have the "white rules" in Florida.
I'm heading home to St. Pete this weekend to attend my best friend's baby shower. I would say that SHE has been waiting so very long for this, but really, we all have. If anyone deserves to be a mom, it is Melissa, and I'm so happy to be celebrating the upcoming arrival of baby Mia with her this weekend! I'm taking Rylie with me, and Bryce and Daddy will have a boys' weekend. Rylie will stay with my other best friend Rebecca while my mom and I go to the shower, and she is super excited about that! Then when I come home Sunday, Rylie gets to stay with Mama for a few days. It's going to be a great weekend!
Does anyone have any fun plans for this weekend? Have a great one!
---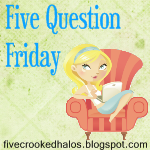 1. Where is your favorite vacation spot and why?
I don't really have a favorite vacation spot. We haven't really been to enough places to have a favorite. Out of the few vacation spots we have been to, though, the best so far is Costa Rica. We spent our honeymoon there and we loved it! We went ziplining over volcanoes and had massages out in the middle of the rainforest. It was awesome!
2. What is your biggest guilty pleasure?
Shopping for clothes for my kids. I always feel guilty afterwards because I spend way too much money, but I can't help it...everything is so cute!
3. What is your favorite fashion trend right now? Or, in the past?
I have never really been a trendy person. In fact, I have no clue what the fashion trends are right now. The only fashion trends that come to mind are those of the 80s.
Yeah, I know I'm showing my age here.
Anyone remember tight-rolled jeans?
4. What are your spring break plans?
Spring Break! Woo Hoo!
Remember the episode of Friends when Ross's college-aged girlfriend went down to Florida for Spring Break?
Anyway...we won't really have "spring break" for another two years when Rylie starts kindergarten. This year, it will be just a regular week for us.
5. What baby names do you hate?
Oh I can't answer this question. I would hate to make some poor, sleep deprived new mom jump off the deep end because I hate her baby's name.
I'll tell you what I do hate, though. I hate when people name their child one thing and call them something else. My dad went by his middle name, and so does my brother. I always told my mom that if she wanted to call my brother Danny, she should have made Danny his first name. Sheesh! Name your kids what you want them to be called!