Happy Friday! It has been another busy week here, and I am beyond glad that I am off today! It has been a fun week here on the blog, and I enjoyed writing some personal posts over the past few days. I loved hearing that, like me, not all of you are perfect and allow your children to eat
fast food
on occasion, and I hope you all had fun laughing with me (
and not at me
) when I told you about our
public bathroom debacle
of last weekend. I have enjoyed interacting with some of you through the comments you left, and hopefully I can crawl out of the blogging hole I have dug myself into once again and reply to the rest of your comments. I promise, I'm trying!
We have NO PLANS for this weekend. Hallelujah! Well, at least I don't. My mom is here for the weekend and she is taking the kids to Sea World again today, and I'm sure they will have all sorts of fun together over the next couple of days. The
house hunting
may actually be over soon, as we're waiting to hear back regarding the offer we made on a house yesterday, so we won't be out and about looking at houses this weekend like we have been doing. I may just stay in my pajamas all weekend. Who knows?
I hope you all have a great weekend, and have some nice spring time weather to enjoy like we are having here in Central Florida!
---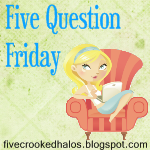 1. If you were free to just hop in the car and drive, where would you go? Or, if you could hop a plane and go anywhere, where?
I would go to Texas, most likely. I have so many friends out there that I would love to spend a few days with. I would definitely fly, though. I can barely make it to Alabama in the car, so I couldn't even imagine a road trip all the way across the country!
2. What's your most recently read favorite book?
You know, there have been a lot of 5QF questions about books lately. Do any of you really have time to read? I have two little kids. I work. I blog. There isn't time for anything else. I guess I will just have to come back in like 10 years and answer all of these questions about books and reading.
3. What's your favorite Spring Break memory?
Hmmmm. I don't think I have any spring break memories. My mom was a teacher, so she was always home with us on spring break. Heck, she needed the break more than we did! I'm sure she took us to do different things, but we never really went on any vacations at that time. Our trips were always done in the summer time.
4. What do you put in your child's Easter basket? Or, for those w/o kids, what was put in your childhood basket?
Candy! We also put some little Easter type toys in there, but the bulk of it is candy. My kids are little candy-holics, so they are just fine with that. Chocolate bunnies for breakfast, anyone?
5. Do you get a summer haircut?
I don't even want to talk about my hair right now. It is still on the mend from all of the
Keratin treatments
and bleach, and it just looks beyond stupid right now. One of these days I will have hair worthy of a "summer haircut", but for now, I'm just trying to get it healthy again. The short answer, though, is no. I might lighten it up a little bit for the summer, but I don't go and chop it all off or anything crazy like that.