Wow! This week just zoomed on by. I honestly can't believe it is Friday already! We were out super late with the kids last night for a playdate, so I'm sure we will all be paying for it today. I met up with one of my internet buddies last night IRL for the first time, and Rylie and Bryce had a great time with her kids who are the same ages. The only thing that stinks about meeting my long distance internet friends in person is that I know I won't see them again for a long time. Sad.
As usual, we have a busy weekend planned. On Saturday we are going to take a ride on Thomas the Train for
Day Out with Thomas
. I'm sure the kids are going to love that! Then on Sunday we are headed to Ethan's 5th birthday party. The fun never ends...and neither does the housework!
I hope you all have a fabulous weekend!
---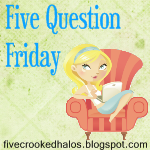 1. Will you run to the store or to pick up a kid looking a mess?
Sure. Been there, done that. Sometimes I just don't have time to get all prettied up.
2. Do you finish a book if it's boring or you don't like it?
Finish a book? Ha! I can't remember the last time I started a book! I don't know that I have ever started a book and then didn't finish it. Even if I don't like it right off the bat, I always think that at some point it will get better.
3. Beach or mountain vacations?
Beach! I'm a sun and fun (and fruity drinks) kind of girl!
4. What thing/event says "winter will end and spring is right around the corner" to you?
I live in Florida, so I guess my answer is March 1st. It doesn't generally stay cold here past February.
5. Would you prefer couples or family vacation?
It really just depends. If we're going on a romantic getaway for our anniversary, I think the kids might just put a little damper on our plans. For the most part, though, I would have to say family vacation. I love spending time with my kids. We will have plenty of time for couples vacations when Rylie and Bryce are older and want nothing to do with us, I'm sure.