Happy Friday! It has been a couple of exciting weeks around here! We are now in the throes of potty training with Bryce, and I think it is going to be easier than we expected. I was starting to think that Bryce would be going to kindergarten in a diaper, but I don't think that is going to be the case anymore.
Bryce's teachers have been working with him at school, and the check marks in the "Went Potty" column of his daily report are plentiful. As you all know from my
Potty Time
post, he has now done both #1 and #2 in the potty, and many days, his diaper stays dry all day!
Wednesday night after dinner Bryce told me he had to go potty so we ran into the bathroom and he went. He was so proud of himself! Since bath time was just around the corner, I asked him if he wanted to wear underwear for a little while and he enthusiastically said yes. We got his new Thomas the Train undies out and he was all smiles. Of course I had to take pictures, and after debating whether or not to post them, I just couldn't resist because he's just so darn cute!
He wore his new undies for about an hour with no accidents, and even went potty again before getting in the bathtub! Maybe we'll try him in them for a longer period of time this weekend when we are home. I cannot wait to be done with diapers for good!
We have a busy Saturday coming up with back to back birthday parties, and hopefully Sunday will be a lazy day around the house. We will definitely need some down time after our busy Saturday.
Have a great weekend everyone!
---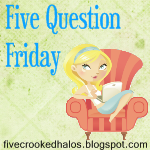 1. What have you done recently that you are proud of?
Well, I'm not DONE with this, but I am in the process of signing up for a 90-day Beachbody Challenge! I am really looking forward to this, and I am excited about getting in shape. I hope the accountability aspect of this program will make me stick to it. I'm proud that I'm taking this step towards better health!
2. What is your favorite way to work out? Or if you don't workout, what are you wanting to try?
I honestly didn't read this question until after I answered #1, so was funny to me that it kind of goes along with that. Brian and I haven't worked out in FOREVER, but when we did, I loved using the elliptical machine at the gym. Now, we are going to start our Beachbody Challenge with the Power 90 workout, and hopefully graduate to the P90X at some point.
3. If you knew you best friend was cheating on spouse would you tell?
Probably not. I would definitely have a talk with my best friend, though.
4. If you could afford a live-in maid or nanny, would you have one?
Hell yeah! Who wouldn't?
5. Do you stress out about birthdays (specifically the age) or do you enjoy them?
I enjoy birthdays. We all get older, it is a fact of life. Why stress about them when there is nothing you can do to prevent them? Instead, I just enjoy my ME
day
week
month!