Happy Friday my friends! As much as I would like to say that we had an uneventful week around here, I can't. I don't know if that will ever happen. I guess the week itself was actually pretty uneventful, which was good, considering Bryce started it off with a head injury. Yep! We were at a local playdate place on Sunday afternoon and just as I was telling my friend that he has never been really hurt other than the
nursemaid's elbow
, he threw himself off the top of a tunnel and landed right on his head...on basically a cement floor. He screamed his little head off, but that wasn't what bothered me. All of the sudden, he had NO color in his face. I mean none. Even his lips were colorless. It freaked me the hell out, to say the least. I jumped up and told Brian we were taking him to the ER, but then his color started coming back.
After second guessing myself all afternoon, I called the after hours line for our pediatrician and spoke to a nurse. Since I had always heard that a bump is good, and he didn't have a bump, I was worried. She said that it isn't bad that there was no bump and it was probably a good sign. We had to wake him up every two hours that night, and then once during the next two nights, and watch him for any neurological symptoms. He seems 100% fine, thank goodness!
I'm still freaked out about my little boy's colorless face, and of course I have been consulting Dr. Google all week. The only thing I could come up with is
Pallid Breath Holding Spell
. Still, it was beyond scary and I hope I never have to see his face looking like that ever again.
So anyway...
What's going on this weekend? We have another crazy one coming up. We don't have any birthday parties this weekend, but I offered to keep my friend
Tiffany's
kids overnight on Saturday so they can celebrate their anniversary, so we are going to have FOUR KIDS in our house. Please pray for me! Mama will be up today and will be here to help with the madness, thank goodness. It will be fun, though, and Rylie cannot wait to have her friend spend the night. She has been asking for Payten to come over for a sleepover for months now!
Have a great weekend!
---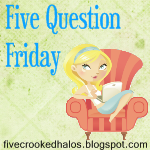 1. What's your favorite way to spend down time (alone or with a significant other)?
Down time? What's that? In the few minutes of downtime we force ourselves to have every few nights, we usually watch TV. We are huge TV watchers, which means our DVR gets full very quickly.
2. Are you the kind of person that wants things more as soon as you know you can't have it?
Nah. There is no point in stressing yourself out over things you can't have. I just try to be happy with what I do have.
3. If you were given $1000 to spend on yourself, what would you buy?
I would definitely buy some clothes that fit, but first, I would put enough away for one massage each week for the next month. Oh, and I would reload my Starbucks card with $100 too!
4. Do you ever go out to eat by yourself?
As in, sit in a restaurant by myself and eat? I have, but usually just for a quick lunch if I'm out and about. I don't think I have ever gone out to dinner by myself. If I do, I just drive through and bring it home. I always feel sorry for people I see eating by themselves. I have been tempted to invite little old ladies over to eat with us.
5. What company would you want to do a blog review for?
I have had the pleasure of doing reviews for several companies and several different types of products, so usually if I want to do a review for a company, I do it. I guess if I could pick any company I wanted for a review, I would go with one of the bounce house companies. My kids would LOVE a bounce house in our backyard!