Whew! The last 7 days have been so busy! We started out on a high, but unfortunately, we are ending the week on a low.
Last weekend was super fun! Mama took the kids to Sea World on Friday. On Saturday, Brian and I took Rylie to the screening of
The Secret World of Arrietty
(which starts today, BTW) at Downtown Disney, and then we ended up spending the rest of the day at Magic Kingdom. While we were waiting for our lunch at Rainforest Cafe, I was scrolling through Facebook and saw a post by one of my friends asking if anyone wanted to hang out with her at Disney because she had some extra passes. I think my exact response was "Does a bear crap in the woods?" We were already there, so why wouldn't we want to hang out at Magic Kingdom for the rest of the day? So we did. Of course it was freezing cold, and none of us were prepared for the weather, so Brian and Rylie ended up with Mickey Mouse sweatshirts by the time the night was over. We had a great time, though, although I did feel bad that Bryce missed out on all of the fun. My mom dragged me to a "vacation ownership"
seminar
scam on Sunday, and thank goodness I went, because I am sure they would have suckered her in. And then on Monday, my mom took the kids back to Sea World for another day of fun.
Brian and I spent Monday evening having dinner at
Firehouse Subs
with the two founders. There will be more on that posted later this weekend. It was such a great evening, and I learned so much! The kids went back to school on Tuesday with Valentine cards and treats for all of their friends, and had a good time looking at all of their Valentines when they got home. Well, I should say they had a great time eating their Valentine's Day candy.
I think all of the weekend's activities caught up with Rylie mid-week, because she came home from school on Wednesday with a fever. When we got home, she didn't want to eat dinner, and even when Bryce was eating his "Valentine's Day", she didn't get up off of the couch. I knew something was wrong when the candy queen wasn't interested in candy. She stayed home Thursday with Daddy and was still running a low grade fever last night, so I am home with her today. Other than the fever and complaining that her belly hurt a couple of times, she seems fine. Hopefully this is just a little bug that she will kick before the day is over.
To top it all off, Brian and I started a
90-Day Beachbody Challenge
on Tuesday. We are seriously out of shape, so the workouts are not that easy for us, and we have spent the week with sore muscles. Unfortunately, the only time we have to work out is at night after the kids go to bed. By then, we are already exhausted, so we have to muster up the energy just to put that DVD in. We are committed to this, though, and we WILL succeed! I will try to blog a little more about this next week, since it is going to be my focus for the next three months.
We have a birthday party to go to on Saturday, and at some point this weekend we have got to get Bryce's hair cut. Other than that, I am really hoping for an uneventful weekend in which I can catch up on some of the chores around the house.
Busy busy busy. I swear, we never stop running!
---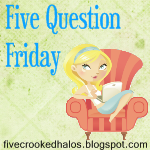 1. What do you do when you are really upset to calm yourself down?
I cry it out. The only way I can calm down is to just get it all out. A few minutes later, I will be fine.
2. Do you go all out for V-day or is it just another day?
Well, I always have these big plans to go all out, but when it comes down to it, it is just another day. I really failed Valentine's Day this year, thanks to the crazy busy days leading up to it. I made up cards and treats for the kids to take to school, but that was done at 11:00 the night before, and it took all of the energy I had just to get those done. I didn't even get my kids any special Valentine's Day outfits like I normally do. Luckily Rylie had a pink shirt with hearts on it, and Bryce had a dark red t-shirt, and they were both clean. Sigh. I'll do better next year, I promise.
3. Are you more or less productive when Hubs is away?
Generally, I would have to say more, even though my husband doesn't go away. As much as I love my husband and enjoy spending time with him, I do love my Fridays off and my "me" time. I don't get sidetracked and I can actually get more done when no one is home.
4. What is your favorite time of day and why?
During the week, my favorite time is 5:30 PM. That is when I get to leave work and go get my little stinkers! On the weekends, my favorite time is usually whenever I get up in the morning. I enjoy having my coffee and just hanging out with the family before the hustle and bustle of the day starts.
5. What is your go to karaoke song?
Um. This girl doesn't do karaoke. Trust me, it is better for everyone that I stay away from the mic!