Happy Friday! I hope everyone had a fabulous week, and has a fun weekend planned. Up until yesterday afternoon we had zero plans for this weekend, and then out of the blue, my friend offered me tickets to Disney World. So we're headed to see Mickey and all of his friends on Saturday! I haven't told the kids yet and I probably won't until we get there. They are going to be beyond excited!
This week didn't start off near as awesome as it is ending, though. On Sunday night I came down with a nasty stomach bug. It came on suddenly, and other than feeling like I had been hit by a bus on Monday, it left just as quickly. Thank goodness! So far everyone in the house is OK, so I imagine I caught whatever Bryce had right before Rylie's birthday, and hopefully that is the end of the sickies in our house for a while.
The weather here has been absolutely beautiful this week. There is nothing like wearing short sleeved shirts and flip flops in the middle of "winter". It was in the 80s all week, and I loved it! We're supposed to be getting a "cold front" tomorrow, but our highs will still be in the 70s, so I'll take it. I love being a Floridian this time of the year.
Have a great weekend everyone!
---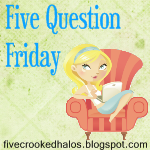 1. Do you swim in the winter?
Um, not unless the pool is inside and is heated to a bath-water-like temperature. I barely swim in the summer time because the water always seems too cold.
2. Do you love or hate winter?
Before I had kids, I used to love it. It was an excuse to stay in and make some of my favorite comfort foods like chili and hot chocolate. That isn't the case these days, though. I love being outside with the kids, and I hate being cold.
But really? Our winters aren't REAL winters, so I don't really hate winter. I can wear jeans and boots for a month or two, and then I am happy to get back into my shorts and tanks.
3. Do you put makeup/actual clothes on when you know you're going to be home all day with just family?
If I know I'm not leaving the house, I don't bother with makeup. I may not even get out of my jammies. :-)
4. How old were you when you had your first alcoholic beverage?
I was 21. That's the law, right?
OK, mom, don't read this part...
I was 16. And stupid.
5. How many ill calls in a 12 month period do you think are acceptable?
I'm assuming this question is talking about how many times you call into work in a 12 month period. Well, when you have kids, I would say that I think 24 calls are perfectly acceptable, especially during that first year or two at daycare. There isn't much you can do about it. Lucky for me I have a very understanding boss.