Hi all! Happy Friday! I'm working today, and I am sure looking forward to 5:00. I am most likely getting up early tomorrow and heading down to St. Pete for a girls' day (and night) with my bestie, while the kids hang with Mama and Brian stays home and enjoys the peace and quiet. I am in serious need of some new clothes, so my stylish friend is going to take me shopping.
As you might imagine, I am still behind on my "chores" from last weekend since the
birthday extravaganza
didn't leave much time for housework. I still have one more birthday post to do about the little Tasmanian devil that was tearing through the presents, and I actually have a few other issues on my mind that I want to write about. Hopefully I will be able to get into some writing next week.
For now, though, I will leave you with some little tidbits of information about me in Five Question Friday. Have a great weekend, my friends!
---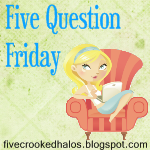 1. Where do you hide the reeeally good snacks?
We don't hide snacks in our house. There is no need to. The candy is out of the kids' reach, but other than that, everything else is pretty much fair game.
2. Do u keep your vehicle clean or am I the only one who has things falling out of their van?
Oh, things tend to fall out of my truck when doors are opened. However, right now it is fairly clean. We had it detailed over the Christmas holiday, and my kids haven't totally trashed it just yet. But before that? It hadn't been washed in probably a year. No lie.
3. Have you ever been to Vegas?
Yep! In fact, we own a timeshare there that we have never used.
Do you hear that? It is the sound of our money being flushed down the drain!
I won't say we were suckered into buying it, because at the time, we had great plans to go back every year. It's not the best vacation spot for pregnant chicks and/or kids, so we haven't been back in several years. Maybe someday...
4. Warm room light blankets or cold room warm snuggly blanket?
Cold room warm snuggly blanket.
5. What is the worst airplane/flying experience you've ever had?
This one is easy. It was definitely our flights to Hawaii back when I was a teenager. I really need to get my aunt to tell the story on video for you to really enjoy it, but I'll give you the highlights:
First, we got on the wrong plane. The flight attendant welcomed us on the flight to LaGuardia and my aunt thought she was joking and kept walking. It wasn't until we got to what we thought were our seats, which were of course, taken, that she compared tickets with the presumed seat thieves and found out that sure enough, we were headed to NY. By this time, the plane was full and we had to fight through the line of people in the aisle to get back off.
Did I mention that there were two adults, a teenager, a child and a baby that needed to get off this plane?
We ended up getting on the correct plane and headed west. I can't remember exactly which leg of the trip the next incident happened on, but my baby cousin decided to have a blowout in her diaper. Now that I am a parent, I don't really understand why this happened, but for some reason, my aunt changed her diaper on the tray tables. I'm sure there were several people that were not happy about that.
And if the stench of the diaper wasn't enough to wake everyone from their high-altitude slumbers, the guy having a heart attack in the middle of the plane was. All I remember is someone waking me up and asking me for my pillow. They must have had 100 pillows shoved under this guy's feet. I was only 14. It was scary, to say the least.