That is a lot for one post, right? Well, there is a lot going on right now. First off, today is my 2nd Blogiversary! Woo hoo!
Two years ago I published my
very first post
on this blog, and boy what a ride it has been since then! What started out as just a place to share stories about my kids has turned into so much more. I have connected with so many wonderful people through this blog, and I have had several awesome opportunities because of those connections. A few months ago it was all getting to be too much and I thought I was going to have to give up, but instead I implemented some
changes
, and so far I am very pleased with the way things are going.
Thank you all so much for your support! I am still trying to get through all of the comments on a couple of my recent posts, but I want to take this opportunity to thank you all for your kind words, and let you know that it means so much to me that you all stop by to read and follow along with the craziness that is my life!
Speaking of craziness...
Tomorrow is Rylie's 4th birthday, and we have an awesome birthday
party
extravaganza planned for Saturday afternoon! This party has a guest list that is almost as big as the one for our wedding was, and I can't wait! I am looking forward to celebrating my big girl's birthday with all of our family and friends, and Rylie is super excited. It is going to be a great weekend!
Well, we hope it is.
I got a call from school yesterday while I was on my way there to pick the kids up. Bryce told his teacher his belly didn't feel good, and then a few minutes later he threw up. He ate a half of a waffle for dinner and at the time I wrote this post, he was in bed and hadn't had any more vomiting episodes. I sure hope it was some freak thing and that our house isn't the latest one to be hit with the nasty bug that seems to be going around. He missed Rylie's 2nd birthday party because of a stomach bug (that lasted 7 days!!!), her 3rd birthday party was postponed because she was sick, and he was actually sick at that party, so we certainly don't want any sickies surrounding her birthday this year. My fingers are crossed. This year is going to be better for us. I know it is.
I hope you all have a wonderful weekend!
---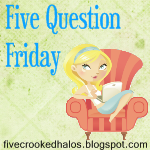 1. What's the the last thing you bought for yourself?
Jeans. I bought some yesterday, in fact. I ran over to the mall during lunch time to exchange the boots I got for Rylie to wear to her birthday party, and as I was passing by Baby GAP, I noticed a sign in the window advertising 30% off of their jeans. Bryce loves wearing jeans so I decided to go grab him a couple pair. One of the GAP employees was so nice to mention to me that the adult jeans were also 30% off, so I ran to the other side of the store and grabbed a pair for me!
2. What is your favourite meal on a cold winter day?
Chili! With brown rice underneath and sharp cheddar cheese and sour cream on top. YUM!
3. Have you started looking at swimsuits for this year, and do you buy a new one every year?
No and no. Last summer was the first summer I actually wanted to be in a bathing suit, so I did buy a couple before we went on our
cruise
. I will most likely just wear those two this summer, since I only wore one of them once, and didn't even get it wet.
4. If you could be any candy what would you be and why?
Almond Joy. Sometimes you feel like a nut.
5. What are you most passionate about?
My family. That was an easy one.