Happy Friday all! It has been a busy week for blogging this past week, and it isn't going to let up for a few more weeks. If you haven't noticed, the super awesome
Countdown to Black Friday
event is in full swing! I hope you have enjoyed the first few giveaways, and will keep coming back for the rest. Remember...we have a giveaway a day (and then some) until the shopping frenzy begins on Black Friday! Hopefully I will still have my sanity when that day comes...
Does anyone have anything exciting planned for this weekend? We actually don't, and I am so thankful for that. Hopefully we will have nice weather here this weekend so we can hit the park or take a bike ride, and who knows what other "adventures" will be in store.
I hope you all have a wonderful weekend!
---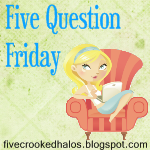 1. What movie do you love to quote?
Hmmm. I don't think I quote movies all that often. I have caught myself quoting Mater from
Cars
by saying "
I'm happier than a tornado in a trailer park
", but that is only because we have watched that movie a gazillion times in the past few months.
2. Have you ever ridden a motorcycle?
Yes. Several. My dad used to sell Kawasaki motorcycles, so he took me for rides often.
Then there was a time in my life when I hung out with a bunch of guys who raced "crotch-rockets" on a major bridge in Tampa. Talk about dangerous! I would like to say that I stayed smart and didn't get on the back of those bikes, but I can't. Hey, I was a teenager. I was invincible.
My husband has actually owned two motorcycles, both of which were stolen. (
I'm not really a religious person, but I swear those were signs.
) Funny thing is that I never rode with him. He actually never had anyone ride with him, and I certainly wasn't going to be the first.
3. What's your favorite thing to do on a rainy day?
Cuddle up on the couch and watch movies. Too bad my kids don't care much for that activity!
4. Do you prefer a bunch of small gifts, or one really big, (expensive) gift?
It really depends. If there is a big gift that I want, then I would rather have that than a bunch of small stuff that I may not need. But I do love opening gifts, so a bunch of small gifts are always fun. Like the time Brian got me 10 presents from the dollar store...
Have I told you all about that one yet? Yes, he seriously bought me 10 presents from the dollar store one Christmas. I kept joking around with him asking him what he was going to get me for Christmas, and one day he said "I'm going to get you
TEN
things...from the dollar store." Sure enough, there was a bag with ten ridiculously silly presents in it on Christmas morning. Yep...that's my husband!
5. Do you ever lose track of days and show up somewhere wrong?
Surprisingly, no. But there was one morning a couple weeks ago when Brian and I totally slept through our alarm clocks. When Rylie came in and asked "is it a school day?" I honestly had no clue what day it was. Unfortunately, the answer to her question was yes. Needless to say, we were all late that day. That is what happens when you stay up all night blogging.