Happy Friday! I hope everyone has had a great week! It has been a rough one for me work-wise, but today is the last day of that nonsense, so TGIF! We have a busy weekend planned with two Halloween parties to go to, and I know the kids will have a lot of fun. What is everyone else up to this weekend?
Make sure you stop back by next week for the
Countdown to Black Friday
giveaway extravaganza! Starting Tuesday, my good friend Colleen and I will each have a giveaway a day until Black Friday. We're going to give you some great ideas to put on your Black Friday shopping list!
I hope you all have a wonderful weekend!
---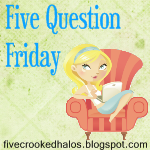 1. Do you prefer cotton, silk, or flannel sheets?
Cotton, but they have to be very high thread count. I love the feel of super soft sheets! I slide around on silk sheets too much, and flannel are generally too warm, so cotton it is.
2. What time zone are you in?
Eastern
3. What is your favorite part of the holiday season?
Low humidity! LOL
I love everything about this time of year, but I especially like experiencing the "magic" of Christmas through the eyes of my children. It makes me want to believe in Santa again!
4. What is your favorite "wintry" drink? (It doesn't have to be an "alcoholic" drink!)
Salted Caramel Hot Chocolate from Starbucks. YUM!
5. In your opinion, what is the worst job in the world?
After the week I have had, I will say that mine is!