Happy Friday, my friends! As you may have noticed, it has been a little slow around here lately.
Do you hear the crickets?
I seem to have a little case of writer's block this week. It isn't that I don't have anything to blog about, because I do. The problem is that I just have no desire to do it. So I stopped worrying about it for a couple of days, and took a little break. I imagine we all need a break sometimes.
I am very busy these days, and I think I have reached the point of exhaustion. Once Bryce's birthday hits in September, it seems like we are non-stop until after Rylie's birthday in January. We just closed our fiscal year at work, so I am really busy there too. I am also trying to finalize our schedule for the awesome
Countdown to Black Friday
event that I am working on with my good friend Colleen. It is all adding up. There just aren't enough hours in the day for everything I want to do.
We are going to have a quiet weekend this weekend, so I am hoping to get caught up some. Rylie and my mom are heading to Alabama tomorrow, so it will be just Bryce this weekend. He will get some super fun one on one time with Brian and me, and we will each have the chance to get some items on our to-do lists checked off. Saturday is our 12 year "dating anniversary", so we are hoping to have a little date-night-in Saturday night. We'll probably get some take out from Pei Wei and catch up on a couple of our TV shows. Exciting, huh? Hey, when you have been together for
12 YEARS
and have little ones, a nice quiet evening on the couch is something to look forward to!
If you have been visiting my blog for a while now, you may remember that I used to participate in Five Question Friday every Friday. I stopped that a while ago, and actually received a few emails asking me why. There was no reason, really, I just didn't feel like posting it one week, and it kind of went away. One of my good friends recently told me that she was bummed when I stopped because she got to learn more about me through my answers to those 5 questions every week. So this week I'm going to fight my writer's block and participate again. This is for you,
Xenia
...
---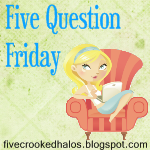 1. Do you prefer your ice cream in a bowl or in a cone?
Bowl. Cones get too messy.
2. What three things do you love the smell of?
Diapers. No, not the dirty ones! The smell you get when you open a fresh pack of Pampers Swaddlers. I remember being pregnant and opening the diapers just to smell them. That's weird, right?
Fresh baked cookies. Who doesn't love the smell of those?
My Bath & Body Works candles...the fruity scents in the spring and summer, and the sweet scents in the fall and winter.
3. Giftcards or no? (In regards to gift giving...)
There are a few instances when I feel gift cards can be appropriate, but generally, I say no. If you can't put enough thought in to buying someone an actual gift, then you shouldn't get them anything. They say "it is the thought that counts" and generally, when you buy someone a gift card, there was no thought there. Not only that, if everyone gave everyone gift cards, what is the point? You might as well just trade $50 bills every holiday.
When do I think gift cards are OK?
Teenagers. Teenagers are usually ridiculously hard to buy for, unless you're loaded and can afford the latest in electronics. So yeah, give them cash or a gift card and they will be over the moon. They didn't want that ugly sweater anyway!
Wedding and Baby Showers. If you don't want to buy off of a registry, then PLEASE go with a gift card. There is a reason for registries - people need or want certain items.
Thank Yous. If someone does something nice for you and you want to send them a little token of appreciation, get them a restaurant gift card, or a gift card for a massage, so they can do something nice for themselves at your expense.
4. What sports did you play in high school if any and do you still play them?
I played softball in high school, but not for my school. I played little league. Then I turned 16 and got a car, a job, and a boyfriend. There was no time for sports then. I played co-ed softball several years ago shortly after I moved to Orlando, but that only lasted one season. I would love to play again one of these days.
5. Were you in band in high school? What instrument did you play?
I don't think so. You know what? I honestly don't remember. I was in band in middle school, and I may have been in band in 9th grade, but again, I really don't remember. I played flute and clarinet.
Have a great weekend everyone!