Welcome to another fun Saturday Playdate! Today we're playing with Jen from
Life with Levi
. Jen is a super busy mom of one adorable little boy. I thought I was busy! Not only does Jen work and take care of her family, she also goes to school too. Oh, and she has a blog. Whew! Her favorite things to write about are breastfeeding, cloth diapers, and parenting, and there are also some reviews and giveaways in the mix.
When you're done here, please check out
Life with Levi
. Leave Jen some comment love and let her know you stopped by from the Playdate.
---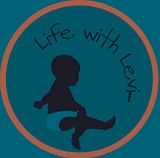 Bloggers should not act like cucumbers.
Cucumber plants, that is.
This is my first year gardening. Everyone warned me that cucumbers like to take over things next to them. But in my naiveté, I overcrowded my garden and planted my cucumbers not only too close to other things, but also too close to each other.
The thing about cucumber plants is that they're vines. Their tiny tendrils will snake out and latch on in a vegetable death grip to anything within reach.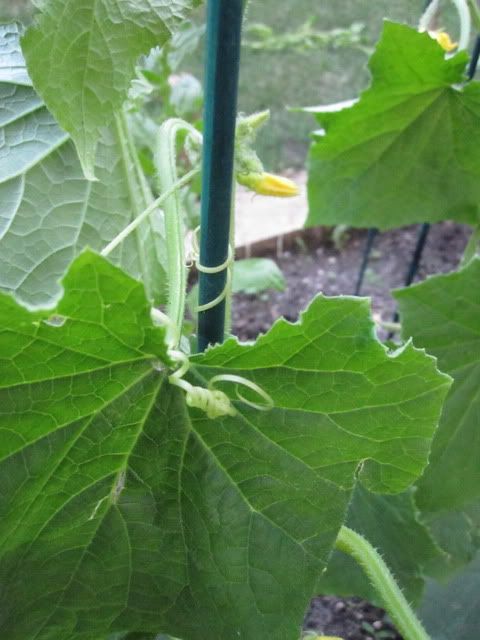 See that innocent looking tendril? That's what I'm talking about.
These plants also have broad leaves which block out the sun and effectively "choke out" other plants around them.
A cucumber plant victim
This photo is of my poor spinach plant that I had to pull out. A wayward cucumber vine had wrapped itself around this plant and snapped off the top. The leaves were already starting to wilt from lack of sun, so I put it out of its misery.
What does all of this have to do with bloggers?
Like plants in a garden, we are all out there trying to claim our space and grow our personal plot of internet. Sometimes, whether knowingly or unknowingly, we act like cucumber plants and start to choke out those around us.
Here are a few tips that I think will help us all thrive in this giant garden we call the blogosphere:
Support one another. Some plants need a stake to help support their weight. Sometimes bloggers need someone to lean on, too. Show a little comment love, send encouragement, or be supportive in another way.
Do not use others to get ahead. Cucumber plants will grab onto others to literally pull themselves closer to the sun. Don't friend another blogger just to get close to a sponsor or offer to write a guest post if you're ONLY doing it because you want traffic back to your site.
Avoid crowding. If someone is nice enough to share their pitch letter or other blogging resource, do not copy it word for word. Sponsors notice duplicates, and it only serves to make the whole blogging community look unoriginal.
Keep your tendrils to yourself. You don't have to promote yourself at every. single. opportunity. Oversaturating any space will certainly make you stand out, but not in a good way. Take promoting your posts on twitter - go ahead and tweet about them, but if all you do is send update after update after update about the same post, you'll probably get more unfollows than click-thrus.
Help others grow. Plants need water and sunlight. Bloggers do, too. Join a community of like-minded bloggers if you can. And be active! If all you do is lurk until you see something that benefits you, you're acting like a cucumber. If you engage and support other bloggers, you will naturally receive support and engagement in return.
Above all else, remember, you don't have to push others down to get to the top. The great thing about the internet is that there's room for all of us to grow and thrive.
Jen is a boring business analyst by day, college student by night, and rockstar mommy 'round the clock. She lives in MN with her husband Jason, her son Levi, and their 3 dogs - Bailey, Kahlua, and JD.
You can catch up with Jen on her blog
Life With Levi
, on
Facebook
, or on
Twitter
---
Thanks for stopping by for our Playdate! I hope you had fun! If you would like to come over for a Playdate, let me know in a comment or an email.