Happy Friday! I'm working today, but I have fun plans tonight, so hopefully this day will fly by. I'm meeting some local bloggers for dinner after work today. I always love meeting my bloggy friends in person!
We don't really have any plans the rest of this weekend, so hopefully we will have a somewhat relaxing weekend. (
Is that even possible with two little ones???
) What is everyone else up to this weekend?
---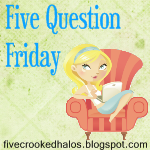 Now for some Friday blogging fun! If you would like to play along with 5QF, head over to
My Little Life
and link up!
1. Do you think cursive writing is overrated? (Schools in Indiana have now voted to take teaching cursive writing out of their curriculum.)
Overrated? No. But honestly, other than signing my name, I can't remember the last time I actually wrote in cursive. I guess kids should still learn it, but just like half of the other crap they force you to learn in school, they will probably never use it.
2. Do you still use a pocket calendar or notepad or do you keep your info on your smart phone?
Smart phone all the way! I ditched the paper stuff years ago when I got my PDA. I do still have a calendar on my fridge to jot things on and be able to look at something quickly, though.
3. What 3 things would you save if your house was burning down? (family & pets are already safe)
Our computer that houses all of our pictures. We really need to burn them on to DVDs or something and get a fireproof safe!
The little stuffed animals that my dad bought for me and Rylie when we were born.
The kids' buppies...so when we are in a hotel with no clothes or anything from home, they can at least have their security blankets to comfort them.
4. Country Mouse or City Mouse, err Person?
I always say I would love to be a Country Mouse, but I don't know how long that would last. I like having access to everything the city has to offer. I would hate to have to drive more than a couple of blocks to go grocery shopping. But man it would be nice to not have to deal with traffic!
5. If you could pick ANY reality show to go on, which would you pick?
Well, the only reality show I watch is Survivor, and I don't think I would want to be on that show. So how about Big Brother? Don't they just live in a house and do whatever they want for a few weeks? Sounds great to me!
---
Don't forget to stop back by after 10PM EST tonight for my
Weekend Win It
giveaway linky, where you will find some great giveaways to enter, and you can also promote yours! Come on over on Saturday for
Saturday Playdate
and meet a fabulous guest blogger. Then come back on Sunday for
Relax & Surf Sunday
, where you can link up your blog and hop around on your own terms, with no rules!