My weekend is here! Woo hoo! We have a super fun weekend planned! I'm hoping for no rain, no injuries, and no tragedies!
I am off today and kept the kids home with me. We were invited to a playdate at
Mama B's
house! I met her and her cute little boy at the Cars 2 screening and I'm looking forward to hanging out with them again. Saturday we will most likely take the kids for hair cuts in the morning, and then Rylie has a birthday party to go to Saturday afternoon. We have another playdate scheduled on Sunday with
Andrea's
family, and another one of our friends and her family, and then we'll be watching fireworks Sunday night. One of the radio stations here puts on a great fireworks show, so we're going to keep the kids out past their bedtimes to let them watch it this year. Monday will most likely be a lazy day, but who knows what we'll end up doing. I'm sure we'll be exhausted by then anyway.
I hope you all have a great holiday weekend! Please celebrate wisely and stay safe! Happy Independence Day, my friends!
---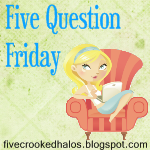 Now for some Friday blogging fun! If you would like to play along with 5QF, head over to
My Little Life
and link up!
1. If you had the opportunity to bungee jump, would you?
Probably. If it was through a company that had like a million different safety features in place. I'm a thrill seeker, but only to the extent that I won't kill myself in the process.
2. Would you rather go to the movie theater or to the drive-in?
Movie theater. It is too hot here, and there are too many mosquitoes to go to the drive-in.
Although I have to admit, now that I'm thinking about it, it might be fun during the winter to pile the family in the car and snuggle up and watch a movie outside. OK, now I'm off to see if drive-in theaters even exist here any longer...
3. Do you have your groceries delivered?
Yes. My delivery guy's name is Brian. I don't tip him. ;-)
4. Eyebrows: Do you wax, thread, pluck, or stay au naturel?
Wax! Every two weeks. I don't want to scare anyone with the bushes that would be on my face if I didn't.
5. Would the people you went to high school with be surprised by your life today?
Doubtful. I'm sure they would have to figure out who I was first, though.
---
Don't forget to stop back by after 10PM EST tonight for my
Weekend Win It
giveaway linky, where you will find some great giveaways to enter, and you can also promote yours! Come on over on Saturday for
Saturday Playdate
and meet a fabulous guest blogger. Then come back on Sunday for
Relax & Surf Sunday
, where you can link up your blog and hop around on your own terms, with no rules!