Welcome to another fun Saturday Playdate! Today we're playing with Tara from
Three P's in a Pod
! Tara's blog is a great mom blog, with the main focus being on her adorable little boy, Carter. It is a fun, family blog with some great reviews and giveaways!
When you're done here, please check out Tara's blog. Leave her some comment love and tell her you stopped by from the Playdate!
---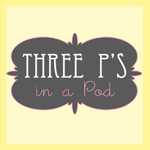 Hi! My name is Tara and I'm so excited to be here today for the Saturday Playdate! I'm a stay at home mom and wife. My husband, Jake, and I have a wonderful 17 month old son, Carter. We also have a 3 year old furbaby, Trigger. I am the author of the blog
Three P's in a Pod
. I enjoy writing about our little family and also do product reviews and giveaways.
I was thinking about what I would write about today. Afterall, many of you may have no idea who I am. So I thought about telling you about Carter's birth (11 weeks early), or a story about some funny or crazy thing that happened lately. But I've decided to do something so much harder than that. I'm going to write about myself.
Being a stay at home mom, my day to day life is filled with diaper changes, chasing Carter around as he perfects his walking skills, picking up toys and watching them get thrown all over the floor again. Don't get me wrong, I wouldn't change a thing. I love watching my little man learn and grow each day. But somewhere among all these things, I lose a little of myself. I no longer know how to describe myself other than "a SAHM and wife." So today, I'm writing a little more about myself.
I went to high school in a small Indiana town. The kind where everyone knows your name, and your business. I lived and breathed that high school. I was involved in every single club that I was able to be a part of. Yearbook staff, student council (class president), national honor society, you name it. But my real pride was in cheerleading. I was a cheerleader for six wonderful years. I cried my little eyes out after I cheered my last game. I always swore that I'd return to my home town and coach cheerleading at my high school. Unfortunately, I don't think that will ever happen.
After high school I attended college at Ball State University, about 45 minutes away from my hometown. I was only 17 years old when I left for college. I lived on campus the first year and after that lived in a couple different apartments. I took the first semester of my junior year off due to some boyfriend and roommate issues. Then, in December 2006 I graduated with a Bachelor's degree in Sociology.
My sophomore year of college I had started working for a small, family owned shoe company. I stayed with them for almost a year after I graduated college. Then, in November 2007 I began my dream job as a Case Manager for the Department of Child Services. This job was rough, but I had some great coworkers and a great supervisor that were always there to help. I'm not going to lie, the job wasn't what I thought it would be. It was a whole lot of paperwork and babysitting parents, which can get super frustrating.
Jake and I got married in June 2009 and decided to try to start a family right away. In July 2009 I found out I was pregnant. I spent so much time analyzing my paid time off and figuring out just how long I'd be able to stay at home with Carter once he was born. Every single day off mattered and I knew that going back to work would be the hardest thing I'd ever have to do. Little did I know, there was a different plan in store for us, and THAT would be the hardest thing I'd ever have to do.
Carter was born at only 29 weeks gestation due to preterm labor. I don't know why it happened, and never will. He was in the NICU for a long 66 days. I took my originally scheduled 6 weeks of maternity leave, went back to work for about a week and a half (while Carter was still in the NICU), and then quit my job. Jake and I felt that, because of Carter's prematurity and his immune system not being as strong as a term baby's, sending him to daycare was just too dangerous. So we made some huge financial decisions and I officially became a stay at home mom - my new dream job :)
Whew, thank you if you made it through that long story all about me. I'd like to also give a big thank you to LeeAnn for having me over to play today! I hope everyone has a great weekend :)
---
Thanks for stopping by for our Playdate! I hope you had fun! If you would like to come over for a Playdate, let me know in a comment or an email.