Welcome to another fun Saturday Playdate! Today we're playing with Stefanie from
Lexie Loo & Dylan Too
. Stefanie is a super sweet, super busy, stay at home mom of two adorable little kids - Dylan and Lexie. She has another one on the way and she is supposed to be staying off her feet. Not likely though, because their family is always doing something fun. Her blog is all about that...her family and all the fun they have. Oh, and pictures. Tons of pictures. You'll always see two cute little faces smiling back at you when you visit her blog.
When you're done here, please check out Stefanie's blog. Leave her some comment love and tell her you stopped by from the Playdate. Comments always make pregnant women feel better, right?
---
Hello! I was so excited when LeeAnn asked if I was interested in doing a guest post. I am a big fan of her blog, so I am honored to do so!
My name is Stefanie, and I am a stay at home mom of 2-soon to be 3-kids. Dylan is 6, Lexie is 4, and "Nugget" will be joining our family in a few weeks! I have been married to my husband for almost 11 years, and we are thoroughly enjoying our crazy life! My blog is a chronicle of our daily life and all the moments I don't want to forget.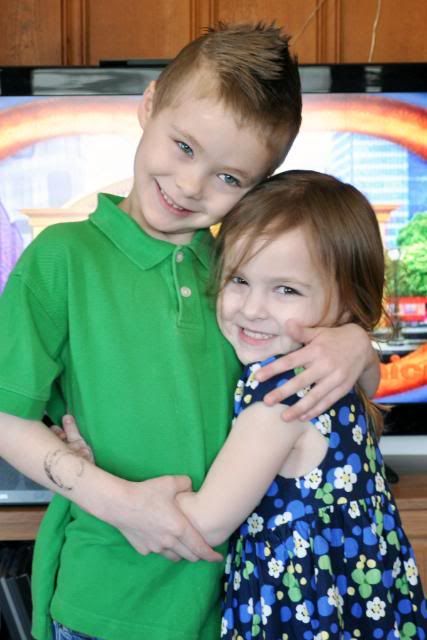 I figured the best thing to write about is the topic that is consuming our lives right now: baby #3's impending arrival!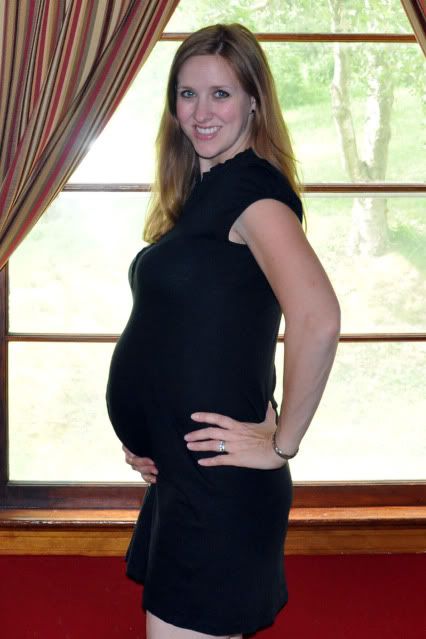 I am currently 33 weeks pregnant. I had two previously difficult pregnancies, and this one has been the same. I had hyperemesis (extreme morning sickness) for over 20 weeks, and although it has improved, I still get sick every single day. It lasted until the end with Dylan and Lexie, and that's apparently going to be the case this time!
In addition to that, I have what the OB's refer to as a sensitive/overactive uterus. Basically, the braxton hicks contractions start very early, and continue to build in intensity and frequency. I end up dilating early(26-28 weeks), but the rate of dilation is slow. Right now, I get a contraction every time I move. I went into preterm labor with Dylan at 30 weeks, but he stayed put until 35 weeks. Even with bed rest for 4 weeks, I continued to dilate and have the same amount of contractions. With Lexie, it was the same, but I just had to spend time off my feet every day and deal with certain restrictions. She stayed put until 38 weeks. There is no medical reason why this happens to me.
People have asked why I put myself through this again, and the answer is simple: I love my kids with all my heart! All the months of feeling miserable are more than worth it, and I would do it again. Nothing compares to feeling that precious life move around inside of you, and meeting your little miracle for the first time!
I've had the same contractions and same restrictions with this baby, and have reached the 33 week point with only one hospital visit. At today's appointment, the doctor informed me that they will no longer stop my labor if it were to happen. He said it was unlikely that they would even be able to. He sent me on my way with orders to continue to stay off my feet as much as I possibly can. As he handed over my records to take to the hospital, the panic set in!
I most likely have several weeks left, but we are not ready! See, preparing for your third baby is a LOT different than preparing for your first and second babies. Our lives are so busy right now, and there just hasn't been time to prepare. I honestly haven't been worried...until today!
Not knowing the gender isn't the issue. We didn't find out with Dylan or Lexie, and it worked out well. Call us crazy, but we love the excitement of not finding out until the big day! This is the first pregnancy that I haven't felt pressured to have a certain gender, and we have baby gear and clothes for a boy or a girl. Although I can't wait to find out what Nugget is, I don't even think much about it! I already love my little baby so much!
The issue is that we haven't had any time to prepare! Between school events, a busy baseball season, parties, picnics, appointments, babysitting...and staying off my feet...we don't have any free time!
The crib is still converted to a toddler bed for Lexie. The pieces of her new bed are lining the dining room wall, begging to be built. The bassinet is still in the attic, along with the rest of the big baby gear. Although girl clothes have been sorted through, bins of boy clothes are stacked up in the corner of our living room. The living room has yet to be painted and the shelves haven't been built. The basement hasn't been turned into a playroom yet, so our house still resembles Toys R Us.
Our only claim of preparedness is our stash of diapers and wipes. I've been stocking up since we found out the good news! At least I won't have to buy diapers for the first 4 months!
Realistically, I know that we will get everything done. It may not happen before the baby arrives, but it will happen. Nugget will be born into a busy family, so the chaos and noise will seem normal!
We are now experienced parents, so we know exactly what the baby needs, and when it will be needed. As long as Nugget has food to eat, a safe place to sleep, a car seat, diapers, clothes, and a lot of love, he/she will thrive! Everything else will fall into place!
It may not seem like we're really prepared for our baby's arrival, but the truth is, we are more prepared than we ever were! We can't wait to meet our sweet baby, and shower him/her with love!
********
Thank you for reading, and thank you to LeeAnn for giving me this opportunity! I hope everybody is having a wonderful weekend! I know I'll be elbow deep in baby boy clothes and putting my wonderful husband to work!
---
Thanks for stopping by for our Playdate! I hope you had fun! If you would like to come over for a Playdate, let me know in a comment or an email.