Welcome to Relax & Surf Sunday, with your hostesses
The Life of Rylie...and Bryce too!
and
Shibley Smiles
! This is a great blog hop for everyone to make new friends! You can find some new blogs to check out, and also get your blog out there and gain some new followers.
Here are the rules...
Wait, there are no rules! That is the whole point behind "Relax & Surf". We just want you to relax, and surf around as much as you want to. You don't have to make a post. You don't have to post our button. You don't even have to follow us.
Of course we hope you like our blogs and will want to follow us, and we WILL follow back!
Just add your blog to our linky at the bottom of this post, and visit as many blogs as you would like to. If you decide to follow a new blog, make sure you leave them a comment so they will know you are following them.
Each week we will randomly select one blog from the previous week's entries to be our featured blog for that week. If that blog happens to be yours, you will get a cute little button to display on your blog, and you will also get the #3 spot for that week!
---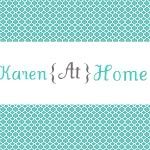 Hello and thank you for visiting Karen At Home Blog! I hope you will relax, kick back, and make yourself at "Home". I am a Mommy to one year old Jillian, wife to my best friend and soul mate, Jeff, and a part time Accountant for a Fortune 500 company.
As a busy Mom, I am always looking for better ways to clean, organize and decorate our home. That is how "Karen At Home...Homemaking Made Simple" came to be. I love sharing my homemaking tips and tricks with you! My goal is to make your life just a little bit easier!!!
---
Link up below and have fun! Thanks for stopping by!
This linky will be posted every Saturday night at 9PM EST. Please link to your blog's main page only.