Happy Friday! I hope everyone has had a great week! I think I'm still recuperating from my vacation, but luckily this week has been fairly uneventful around here. I'm off today, so I'll be doing 397 loads of laundry, along with catching up on some blog stuff. I have a lot of great giveaways coming up, so make sure you stay tuned!
What is everyone up to this weekend? Other than
Angelica's
birthday party tomorrow afternoon, we have no plans. Rylie is super excited about her friend's party, and even more excited that Angelica will be starting at her school next Monday. Woo hoo! Those girls are so close and love each other so much, and I'm so glad they will get to see each other daily now.
I hope everyone has a great Friday and a great weekend!!!
---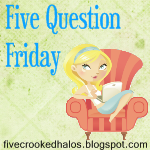 Now for some Friday blogging fun! If you would like to play along with 5QF, head over to
My Little Life
and link up!
1. If you had to choose, how would you prefer to choose to spend money...on landscaping or a pool?
Well, if we didn't already have a pool, I would definitely have to go with pool. It is a must when you live in Florida. I love being able to go out in my back yard to keep the kids entertained...we don't have to pack up half the house to go somewhere, and hey, I don't even have to shower!
But since we do have a pool, I will say landscaping. When we had our pool put in, we hired someone to do the landscaping around the screened-in patio. Unfortunately, pretty much everything has died (even our palm trees!!!) and it looks horrible now. I would love to have it fixed up again. The landscaping in our front yard needs some serious work too!
2. (Scott likes to get things stirred up...) Death penalty, yay or nay?
Yay! Of course I mean for a crime like murder. An eye for an eye, I say.
I'm sure I will be in the minority with my answer, and that's OK. People that commit heinous crimes like killing their own children don't deserve to be on this earth.
3. What's the worst thing your kid has gotten into when you turned your back/blogged/showered/blinked?
My toothpaste! And there is a post all about our
call to poison control
. She was fine, and it definitely could have been worse, but it scared me to death!
4. How often do you REALLY go to the dentist?
Every 3-4 months. I have to. I can thank my genetics for that. Every tooth in my mouth either has a filling or a crown. And I brush twice a day too!
5. What is your favorite animal (doesn't have to be a pet-type animal)?
Dogs. Definitely dogs. They are called man's best friend for a reason. Nothing puts a smile on my face like a wet nose and a wagging tail when I walk in the door after a long day at work. I imagine we will always have at least one dog in this house.
---
Don't forget to stop back by after 10PM EST tonight for my
Weekend Win It
giveaway linky, where you will find some great giveaways to enter, and you can also promote yours! Come on over on Saturday for
Saturday Playdate
and meet a fabulous guest blogger. Then come back on Sunday for
Relax & Surf Sunday
, where you can link up your blog and hop around on your own terms, with no rules!